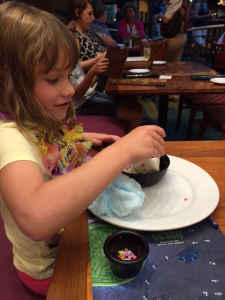 Chef Amber was a standout for us on our vacation.  When she found out that my daughter had never eaten in a restaurant before, due to her allergies, she went out of her way to make our night special.  My daughter saw a hotdog on the kids menu, but was told they did not have a safe hotdog bun or French fries.  However, Chef Amber brought her gluten free buns to make her own mini hotdogs, baked her some fries in the oven and made her green beans.
She also made my daughter her own, make your own sundae bar, with rice dream ice cream, Hershey's chocolate syrup, Mickey sprinkles, crushed Enjoy Life cookies and Cotton Candy!  She was in heaven and talked about Amber all week!  Amber gave both daughters a lei and told us to email her directly if we were coming back so she could prepare something special for the girls.  She was really a stand out chef on our vacation.
Read the full Disney World food allergy trip report here.
Recommend Kona Cafe for dairy and egg free?: Yes
If you would like to review Kona Cafe or any Disney restaurant, submit a food allergy dining Quick Review.