What in the world is a fish extender?
A fish extender is a set of pockets that hang from your brass message hook (which is shaped like a fish) next to each stateroom door. You can make them yourself, or buy them online. Etsy has several talented shops that make and sell them.  You can find all sorts of designs and personalization options.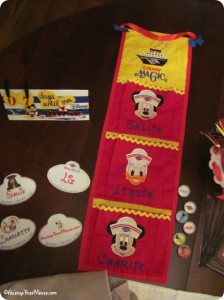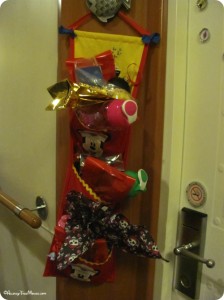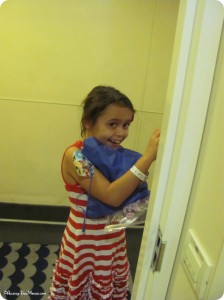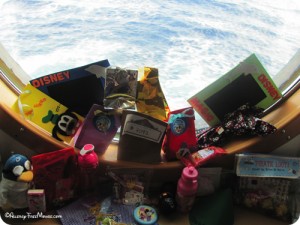 But, this is very important, you have to join an Fish Extender or "FE" group to get gifts delivered to your FE pockets. If you're traveling with a large group, you can create your own FE group — schedule the days for certain people, etc. Or, if traveling with just your family or a couple of friends, join an FE group on the DISboards, the discussion board service. To do this on the DISboards, simply search for the thread for your cruise. Then, search for the Fish Extender organizer on that thread and join. The Fish Extender organizer will send out a list of cabins with names of guests, and each of the children's age, gender, food allergies (list yours if not asked!), special events being celebrated, and more. Some cruises have large Fish Extender groups, and are broken down into several groups.
Now for the Fish Extender gifts…
You will only be obligated to pass out your Fish Extender gifts on one day. However, you may want to do Pirate Night, Christmas or any other occasion, too.
Fish Extender tips
Keep them small — remember, people have to pack them to take home.
Have fun – get the whole family involved in making them.
Fish Extender Gift ideas
Christmas ornaments with ship name and date. We loved ours and hung them on our tree last year, and will forever.
Pirate coins, eye patches, bandanas
Magnets for the doors — see examples on Etsy
Dry erase board and markers
Personalized highlighters to mark their Navigators
Cute pads of paper with pencils and crayons for the little ones
Barrets for little girls
Door hangers (photo 3236)
Goodie bags with all sorts of cute items
Decorated wooden clothespins with magnetic backing
Gold coins (non-chocolate for those with food allergies) in gold mesh bag with leather tie
Keychains
Disney soap favors in ribbon tied bag
Magic wands
Glow sticks for pirate night
Bracelets
Little packets of hand sanitizer with your a personalized label, like with Mickey Mouse's hand! (see pinterest)
Little bottles
Disney themed  luggage tags
Miniature shadow box fridge maget
Post-it note holders
Disney homemade coasters using maps
Posit clip boards
Homemade bookmarks