Trip Planning for Disney with Food Allergies
We hope you have started your trip planning well in advance. But, if you haven't, don't worry, just get started right away.
We usually start by getting the latest PassPorter's Walt Disney World
book. Get the latest from Amazon, etc., or get the previous edition much cheaper elsewhere.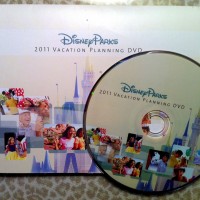 Additionally, Disney will send you a FREE Vacation Planning DVD to help you plan, available as a link at the Disney World web site.
A quick note for those with extreme dairy allergies: You may wish to visit during the cooler months, since ice cream is a big treat during the warmer months, and the park will be full of accident prone kids with sticky fingers.
As early as possible, preferably 180 days or more before your trip
Begin by planning the parks and attractions, including Disney Characters you would like to meet. If you plan to spend most of your time at the Magic Kingdom or Epcot, you may want to consider staying at the Contemporary, Grand Floridian or Polynesian since they are just a quick monorail ride away. However, they are more expensive. If you're going to spend a lot of time at the Animal Kingdom, consider staying there, too, since it is a long bus ride away from everything else. Again, it's a little pricey, but extremely exciting to wake up with giraffes and zebras outside your balcony.
A few restaurants that can be difficult to make reservations.
The Rose and Crown
The Fantasmic Dinner Package, especially The Brown Derby followed by Mama Melrose.
If Disney Characters are part of your plan, determine where and when they appear and coordinate parks and attractions accordingly. Next, review the restaurants and quick service dining within the same parks, unless you are dining with the Disney Characters. Check to make sure the restaurant can accommodate your food allergy. If not, which is very rare, plan to take a meal if the rest of the family plans to dine anyway. Review the Disney website for fireworks times and Extra Magic hours for each park you plan to attend.
Theme Park calendars: Magic Kingdom | Epcot | Hollywood Studios | Animal Kingdom
Make your hotel reservations, considering budget, proximity to theme parks, amenities (pool, laundry, etc) and whether or not they can provide a refrigerator or a kitchen. The fridge is important, as you will probably want to keep allergy-free items, like fruit, fresh and cold.
Once you have your overall plan for the duration of your stay, start making the dining reservations, informing them of your food allergy. For some restaurants, like Cinderella's Royal Table, you need to make the reservations 180 days before. You should receive an email with a confirmation number for each reservation. We usually plan our theme park visits around the dining plan, since they can be difficult to get into at convenient times. Even with a Park Hopper ticket, changing theme parks just to eat can be time-consuming.
If you cannot get a restaurant reservation at the exact time you wish, make one that is the closest to your preferred time. It may be possible to make little changes on the day of your visit. Then, keep checking the reservation system for your preferred time — they change all the time and your preferred time may open up.
If you have a complex dietary situation involving:
Allergy or intolerance not listed above under common food allergies
Phenylketonuria (PKU)
Metabolic disorders
A single guest with multiple allergies/intolerances or multiple guests with allergies/intolerances within the same party
You should contact [email protected] at least 14 days prior to your visit and after making your dining arrangements for your trip. All the details are here.
Flying to Disney? If you're planning to fly to Disney and you have a peanut allergy, call ahead to request a peanut free flight. Then, confirm this a few days before flights, both to and from Disney.This is especially important on Southwest Airlines. When you arrive at the gate, identify that you have a peanut allergy and you should be given a special boarding pass to board first and allow you time to select and clean your seats. Since Southwest does not reserve seats, this will allow you time to select seats near each other and give you time to be sure they are free of peanuts.
A month or so before your trip
Even though you have made your reservations, you can still make changes. Begin planning your daily schedule, detailed by day, planned parks, pool time, shopping, fireworks, special events, and every meal and snack. Also, include nap times and other "downtime" if needed. You can use this Planning Worksheet template (read more about the planning worksheet here). Even though you may plan to this level, it shouldn't be set in stone. Be flexible and enjoy the magic! Make a list of your dining reservation confirmation numbers, and make sure you have multiple copies if your group will be park hopping. Having these numbers makes it easier to resolve any problems that might arise. Also, note any cancellation policies for restaurants. Some have cancellation deadlines and it's important to make a note of these if you need to cancel. Order your free customized maps to plan with your family. They arrive in about a week.
Overwhelmed with the planning?
You might consider working with an Authorized Disney Travel Planner, like Pixie Lizzie of Pixie Vacations. The service is
absolutely free
and adds a concierge level of service above what you will receive from Disney. Pixie Lizzie also has real experience planning (and taking) Disney trips and Disney Cruises with food allergies.
Click here for a free quote
.
While at Disney
Keep copies of your hotel and restaurant reservations with you. If you know you're not going to use a reservation, cancel them as soon as possible. It will make some else's day to get in. Check the Daily Times Guides for fireworks times and Extra Magic Hours at the theme parks, if you're staying on the property, to see if they have changed. Plan around them, if you want. If you enjoy the fireworks, knowing the correct time will ensure you don't miss them while dining or riding. Once you check in, you may want to take a few extra precautions in your hotel room. Here is a checklist. Check back for more, as this page is frequently updated with new tips…