Disney World Planning Worksheet
This is the grid I make every time we go to Disney World. I usually end up making several versions of these, as I change them around to make sure we have the best combination of theme park time, pool time, Downtown Disney time, and restaurants scheduled to work best for our food allergy.
Check park hours, Extra Magic Hours and fireworks times, Electric Water Parade hours, outdoor resort movie times and activity times, etc. A good place to start is by checking the park calendars and resort web page for hours and activity times. Also, don't forget to plan around special theme park "parties" such as "Mickey's Not So Scary Halloween Party" and "Mickey's Very Merry Christmas Party." I buy these tickets as soon as they go on sale.
Tip: You don't have to spend the day at the park hosting the special party. For example, you can spend the day at Epcot and then attend "Mickey's Very Merry Christmas Party" at the Magic Kingdom on the same day. It doesn't require "Park Hopper" passes to do this, since the parties are considered separate events.
To plan your trip, pick the dates you want, the parks you want to visit, the times you want to be there, then the restaurants. Of course, this may change if you find it difficult to get into a restaurant you want at the time you prefer. For example, it's often difficult to get a reservation at Cinderella's Royal Table on a day we plan to be at the Magic Kingdom. In that case, we might choose to move a Magic Kingdom day to another, and move the easier-to-get reservations at another park.
Some of the most difficult to get:
The Rose and Crown
The Fantasmic Dinner Package, especially The Brown Derby followed by Mama Melrose.
O'Hana
Try to make your reservations at these restaurants 180 days before your trip, except for Tomorrowland Terrace which cannot be reserved earlier than 2 months before your trip.
Pixie Lizzie also uses this planner
Pixie Lizzie is an Authorized Disney Travel Planner with Pixie Vacations. Planning a Disney trip with food allergies can be confusing. Let Pixie Lizzie use her extensive knowledge and first-hand experience to help you plan your trip. The service is
absolutely free
and adds a concierge level of service above what you will receive from Disney.
Start the planning process by telling her about your itinerary
.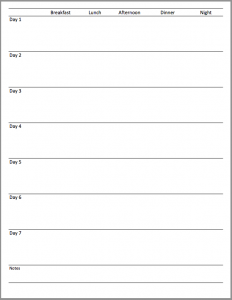 Label each day with the day name. Below that make a note of the Extra Magic hours for the park you're attending, if they exist. Next add each day's breakfast location, lunch location, afternoon plan, dinner location and after dinner plan. Be sure to add your Advanced Dining Reservation confirmation number below each restaurant accordingly.
Then, just to both simplify and clarify your plans, use color coding to ensure you have planned accordingly. We color code our grid with the following:
Yellow = Magic Kingdom
Green = Animal Kingdom
Purple = Epcot
Gold = Hollywood Studios
Pink = Downtown Disney
Orange = Resort / hotel
Light blue = Hotel pool
Medium Blue = Water parks
Brown = Other resorts, usually for dining
The planning may seem a little too detailed to some, but it has to be due to our food allergies. As we all know, you have to have your meals completely planned out. By color coding the grid, I can easily make sure everything lines up accordingly, parks and their restaurants, plus I can see that we have enough time at the park, pool and other activities. Put notes at the bottom, like fireworks times, etc.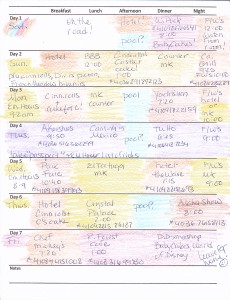 You could use a spreadsheet version of this, but it limits the flexibility to make notes and changes when you're working on the plan.
I make a color copy of the final version. I keep the original at the hotel and take the copy with us, plus a photo on our smartphones, just in case. The originals are fun to look at years later or add to a scrapbook.
I love planning our trip — it's exciting and a lot of fun. The fact that my little girl can eat at a restaurant, play at the parks and the resorts is truly magical!
Here is a copy from our trip in early May. Click it to see a larger version. You may notice there is no time allotted at the Animal Kingdom or Hollywood Studios. On our last trips, we spent time at each, but felt it was more age appropriate to spend most of our time at Magic Kingdom this trip, along with a day at Epcot.