Dining on a Disney Cruise with food allergies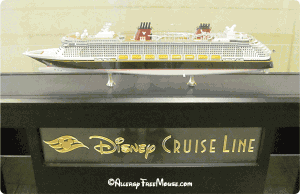 The Disney Cruise Line can accommodate a special allergy requests, including gluten and peanuts.  However, you must submit any special dietary requests in writing to the Disney Cruise Line Special Reservations Department at least four weeks prior to your sail date.  Once on the ship, be sure to tell your Head Server about your food allergies, and get to know them very well. Request the dietary requests form via phone to Disney Cruise Vacations at 1-800-951-3532.
Check out these great sections about Disney Cruises with food allergies.
The following was graciously contributed by a reader, Jennifer from Edmonton, Alberta, Canada.
Congratulations, you're going on a Disney cruise!  Be prepared for a fun, memorable, and exciting trip at sea.  (And a lot of jealous friends and relatives.)  Rest assured, you will be well taken care of, as will your food allergies.  Here are a few tips to make your cruise as allergy-friendly as possible:
Before you board:
If using a travel agent, inform them of your allergies and request them to put an allergy flag on your file.
If you booked the trip on your own, call or e-mail Disney Cruise Line (DCL) and inform them of your allergies so they can flag your file.
The details, disclaimers, and information the DCL staff will give you on the phone or e-mail may look daunting, saying you can only eat in the dining rooms, but you'll find the crew on the ship far more accommodating and in tune with your needs.
For kids, bring an allergy action plan with a photo for the counsellors in the kid's club.
Pack a few allergy-free snacks in your luggage for those day trips off the ship.
Pack some shampoo, conditioner, soap, etc. in case the stuff in your stateroom isn't allergy friendly.
Pack at least two epinephrine auto-injectors and keep them with you at all times.
As soon as you get onboard:
Look at the Navigator (the newsletter/schedule for the day) and note when and where to go to change dining assignments or make reservations for the adult-only restaurants.  You should visit one of these places to verify that your allergies have been noted on your reservation.  You can also talk to the dining representatives there to discuss options available to you or ask any questions you may have.
For lunch on embarkation day, head to the sit-down restaurant open for dining.  They may try to divert you to the buffet on the pool deck, but the sit-down place is better able to handle allergies this day.  (It's a buffet too, just in a restaurant.)  Tell the person who seats you that you have allergies and would like to speak to a chef.  The chef will review your allergies and preferences and make you something safe and to your liking.  It may take a while, so be prepared to wait…
Beware of any treats in your room, they may not be safe. Check the labels on the shampoos and soaps and things too.  As far as I can tell, housekeeping does not have access to the allergy flags.  Sad but true.  You can ask your stateroom attendant not to bring food items or shampoos into your room, or ask for them to remove certain items.
Main Dining Rooms:
The wonderful thing about rotational (and traditional) dining is that you get the same servers every evening, which means you don't have to tell them about your allergies over and over again.  Yay!
Your servers should already be aware of your allergies.  Eerily, they will even know who is who and any allergies before you even meet them!  On your first evening, your head server will come to your table to introduce themselves and explain the allergy ordering process.  The servers will take your order on pink cards.  On the cards is a place to write the person's name, table number, allergies, and their order.
Every evening, you will be asked to place your order(s) for the next day (breakfast, lunch, and/or supper).  This will ensure they make your items without allergens or make modifications if necessary.  If you order ahead of time, your food will come to the table much faster than if you didn't.  It also allows you to order things that aren't on the menu or things that would require significant modification to meet your needs.
They can modify things so that they do not contain your allergens. For instance, cream soups can be specially made without cream for those allergic or sensitive to dairy. If you really want something, don't be afraid to ask. (They will get creative. The chefs I talked to were all genuinely concerned and wanted me to enjoy everything I ate…)  They can even make things not on the menu, or get things from the crew mess.  (They have great curries down there!)
There are some allergy-friendly foods not on the usual menus.  They vary by sailing and by ship, but we've regularly seen dinner rolls, waffles, pancakes and chocolate cake that are all free of gluten, egg, dairy, peanut, and nuts!  Ask the head server for details.  That is, if they don't offer them to you first.
Silk soy milk is used onboard.  Rice milk should also be available.  This is in the dining rooms only, but if you're really polite and ask someone at the buffet they may get you some from the galley.
Tofutti or Rice Dream ice cream should be available in the dining rooms.  Sadly, neither was safe for nut allergies when we were onboard.
Always double check the ingredients for everything brought to your table, including the breads and pastries.  Confirm that everything has been checked for allergies.
When dining in the dining rooms for lunch and breakfast, the person checking you in will print off a card that has your allergies listed on it. Remind the servers that there are allergies and they will bring the head waiter over to your table to take your order on the pink tickets. That is, if you didn't pre-order your meal the night before.
If you are not convinced that your servers or chefs understand you completely go to Guest Services 

immediately

and express your concern. They will take your report very seriously and either change your servers or your table.
Buffets and Quick Service:
Disney only guarantees allergy-friendly food in the dining rooms, but buffets and quick service places have been really good to us and my relatives with multiple food allergies who cruise with them far more often than we do.
At the buffets you can tell the person handing out plates that you have allergies and need to speak to the chef. The chef will take you through the line and tell you what is safe. They can then go to the kitchen and get you the items you request, ensuring no cross contamination.  If nothing is safe or appealing to your appetite, they may make you something simple.
For the quick service places on the pool deck, you can ask for ingredients on everything. If they don't have the list, they can find out. You may want to bring your Wave phone with you the first day or two so chefs can call you back about quick service ingredients.
Like the restaurants, the chefs at the buffets will go out of their way to make sure you have allergy-friendly food to eat.  I was fortunate to get to know two chefs at the buffets who told me how compassionate they are towards people with allergies and how they can only imagine how difficult it must be.  We talked about the challenges allergies bring and how the staff have been great at making accommodations.  One chef told me how he gave a whole bag of special dinner rolls to a girl with milk and wheat allergies to take back to their room and use for the week.  He did this because he couldn't guarantee that they would be available the whole week and wanted to make sure she had enough to eat.  Another chef baked me a heaping plate full of allergy-free cookies that I could take back to my room and keep for the duration of the cruise.  He knew that I couldn't eat any of the desserts at the buffet or snacks in the shops and wanted to fill that gap.  I didn't ask for it; he just did it (twice, actually).  I was over the moon.  (And the kids at the table next to me had eyes as wide as saucers and asked their mum how they could get a big plate of cookies like that!)
Port Adventures:
This policy may be different depending on the port. On Caribbean cruises, only unopened food packaged at the manufacturer can be taken off the ship. We recommend checking the policy with your

Disney travel agent

and plan accordingly.

If you are scheduled to go on a port adventure (booked through Disney) in which a meal will be served, you can request Disney to make you a allergy-free packed lunch to take with you. This will ensure there will be something safe to eat, as they cannot guarantee safe food on the excursion. (I wish I learnt about this sooner… we had a very hungry 8-hour excursion once.)  I'm not sure if you arrange this through the Port Adventures desk onboard or with the Head Server.  Call Port Adventures onboard to find out.

On Castaway Cay (pronounced KEY) they can bring a special allergy-friendly meal to the restaurant on the island for you. Otherwise, you'll have to go back to the ship to eat. Talk to your head server the night before for options.
Reactions:
The DCL staff are only human, and mistakes do happen.  Their policies are thorough and comforting.  However, reactions happen, it's just a fact of life with allergies.  Be prepared and bring your epinephrine auto-injector everywhere.
If you have the unfortunate experience of a reaction, find the nearest cast member (staff) and let them know you need a doctor right away. All phones have the emergency number written on them as well. A doctor will come to you faster than you can get to the medical clinic.
For mild reactions: the onboard shops, Guest Services (if the shops are closed), and the medical centre all have Benadryl available upon request.
Other Stuff:
Oh, where to store your auto-injectors whilst swimming… there aren't any lifeguard chairs to clip them to or cupboards to store them in.  We opted to wrap them in a towel with our stuff on a beach chair in the shade.  This kept them cool, out of the sun, and close at hand.
The kids clubs have a system for young kids with allergies.  The computer will prompt the staff to request or return an auto-injector when you check in or check out your child.  They will issue a coloured wrist band to kids with allergies whose parents have requested that the club not feed their child anything.  If you know there will be an activity with food (i.e. baking cookies or lunch, per the Navigator), it may be a good idea not to send your kid to the kid's club at that time.  Or, if you do, talk to the counsellors at how they can keep your child safe.
That's everything we've learnt about cruising with DCL with food allergies and special diets.  It's a culmination of a lot of research, my relatives' experiences, and my own experiences.  These tips eased my worries whilst at sea and hopefully will help others as well.  Happy sailing!
Thank you, Jennifer, for this great information!
Another DCL food allergy experience, from a friend.
DCL was able to accommodate their son's peanut allergy. Additionally, the head chef contacted them personally as they were coming into port in Key West, so that he could acquire any special requests they might have for specific food items. That's the Disney Experience!
Wow! That's a lot to take in.
You might consider working with an Authorized Disney Travel Planner, like Pixie Lizzie of Pixie Vacations. The service is
absolutely free
and adds a concierge level of service above what you will receive from Disney. Pixie Lizzie also has real experience planning (and taking) Disney Cruises with food allergies.
Click here for a free quote
.
Disney Cruise Medical staff and training for food allergies
We spoke to Disney Cruise Lines about the medical staff available onboard the ships. We were told there are several doctors, medically trained staff and medical facilities on board. Anyone requiring an EpiPen should be in good hands for additional treatment.
Additionally, all of the staff in the children's areas are fully trained to use an EpiPen.
Anyone considering a Disney Cruise with food allergies should call and discuss their allergies with DCL to determine their own level of comfort.