This trip report was provided by Michelle, whose son is allergic to eggs, dairy, peanuts, tree nuts, soy, wheat, fish, shellfish, and sesame.
A trip report from a client: This little boy is severely allergic to eggs, dairy, peanuts, tree nuts, soy, wheat, fish, shellfish, and sesame.
He had never eaten a roll before.
Let that sink in.
Lizzie,
It's taken me a week to reenter reality and accept that my long-awaited trip of a lifetime is now complete. Being a food allergy parent yourself, I know you understand the desire to show your child that life and adventure don't need to stop because of food allergies.
I can't thank you enough for the comfort and confidence you brought to me and my son and continue to bring to so many others whose only wish is to share the joys of life, adventure, travel and well- childhood with their children.
When you think of Disney, you don't typically associate tears. But let me tell you- I cried, a LOT! I cried tears of joy, relief, thankfulness… because my son who is Top 9 was able to eat like a king. He was accepted, cared for and respected. Everyone at Disney was so careful and detailed with his food.
With your services and knowledge, making a trip like this for my family was stress-free! Food didn't have to be the forefront of every thought. As a mom, I was able to enjoy our vacation without the anxiety that plagues my every day. My son was able to be a kid and enjoy the simple pleasures of sitting down at a restaurant after a long busy day and just knowing he can eat. He wasn't made to feel different or special- at last, he was just like any other kid.
We had the most wonderful vacation and it's all because of you. As Walt said, "If you can dream it, you can do it." Well, Lizzie- thanks for making my dream come true.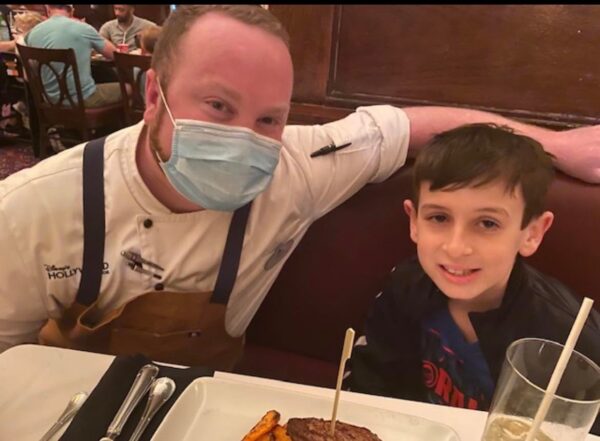 Happy mom + Happy son = Magical Vacation
First night's dinner at Brown Derby.
My lil guy had a delicious filet and sweet potato wedges. He said this was his favorite meal of the whole trip!
Chef Armando at Be Our Guest is incredible. He brought out the most delicious safe baked rolls. My son had never eaten a roll before.
A little sorbet to refresh.
Yak & Yeti was a success. No worries of soy or sesame cross-contamination. And my son devoured his rice noodle, broccoli & grilled chicken stir fry.
Coral Reef was exceptional and my lil man walked away with boxes of his favorite cookies.
Thank you so much Lizzie! Love, Michelle, Jovie and Logan