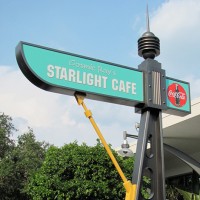 This was our worst experience. The place was jammed packed and noisy. When I reached the cashier (an older man), I asked if I could see an allergy menu and speak with a manger about my daughters allergy. There was already another mom looking at an allergy menu. He asked me which ones, and when I said milk and eggs, he raised a sign in the air and yelled "Allergy. We got another allergy here." Then he motioned for me to stand aside and said, "I cant do anything for more than one allergy. You have to wait to see a manager."
The manager asked the age of my daughter and then said she could only have the items from the CHILDREN'S meal that were safe for her. No hamburger. I had to wait 20 minutes to see a manager, then an additional 20 minutes for allergy safe hotdog and the rest of the party's food. The kid behind the counter kept saying to me (although I never asked him any questions)…"if you gonna order an allergy meal, your gonna have to wait." I didn't mind waiting, I just felt awkward being made to feel like I was the cause of everyone behind me also waiting.
Read the full Disney World food allergy trip report here.
Recommend Cosmic Ray's for dairy and egg free?: Not really
If you would like to review Cosmic Ray's or any Disney restaurant, submit a food allergy dining Quick Review.