This trip report was graciously provided by Gillian, whose daughter is severely allergic to dairy and eggs.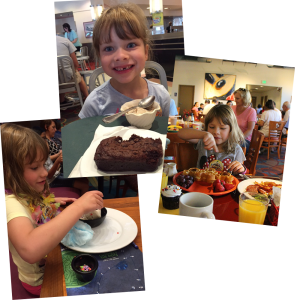 We've been home for 4 days now and I'm in Disney withdrawal. It didn't help that we got a few flakes of snow this afternoon. Boo!
Anyway, since I still have Disney on the brain, I thought I'd take a few minutes to tell you how our trip went, and our experiences at the different restaurants with our daughter's milk and egg allergy. Initially, it had been my intention to take proper photos and write some reviews, but I usually food we were so hungry by the time the food came, it always slipped my mind!
Overall, we had a positive experience. Our daughter did not suffer any allergic reactions, and we were able to find allergy safe snacks and treats around Disney. We found the table service restaurants all good at accommodating her allergy, though some offered more selection to her than others, and some chefs stood out more in their willingness to prepare something "special" for her. We did find the allergy menus were pushed on us, and in two cases the chefs refused to make anything not listed on the children's allergy safe menu. (Ill elaborate in more below). At character buffets the chefs wanted us to walk the buffet with them, but when I said I didn't want my daughter to eat off the buffet they always brought food directly from the kitchen without any further issue. We had multiple minor issues at QS places, which left be feeling frustrated and frankly nervous about trusting the kitchen staff.
If you would like to review any Disney restaurant, submit a food allergy dining Quick Review.