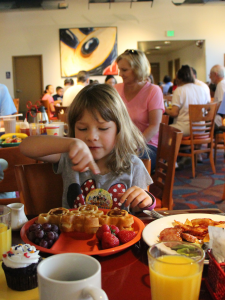 The Chef (Enrico?) took me around the buffet and kept telling me it was fine for her to eat off the buffet.  I insisted that we couldn't risk cross contamination from eggs and dairy and he seemed a little put out initially.  However, after some effusive graciousness and even a couple of thankful tears from mum, he made her a huge plate of Mickey waffles, brought out smoked salmon roses decorated with fruits and plates of safe meats.
Her also gave her a Mickey cupcake for later.  All in all a great meal (just too bad about the initial buffet pushiness).
Read the full Disney World food allergy trip report here.
Recommend Chef Mickey's for dairy and egg free?: Yes
If you would like to review Chef Mickey's or any Disney restaurant, submit a food allergy dining Quick Review.