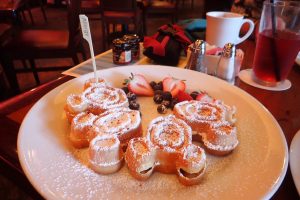 This is the buffet-style restaurant, often used for character meals. We dined here for one character breakfast and one character dinner. We enjoyed the story and theming of dinner, even without kids. Uncle told the story of the Menehune, mythical creatures that build things at night and also create mischief. The breakfast seemed really random and loud for us, but Aunty was engaging the younger kids often, so it may have been more fun for kids than adults alone. Each meal had one character greeting at the entrance and three or four characters wandering around to meet guests.
This quick review was provided by Jennifer, who is allergic to tree nuts, peanuts, potato, wheat, and sorghum, is dairy intolerant and has a vegan preference.
Our two most memorable meals were at this restaurant, actually. Whether that was because the kitchen had more resources or we just lucked out with exceptional chefs, I don't know; likely a little of both.
Per usual, we spoke with the chefs on arrival. Never was I told to look at the buffet, though one chef mentioned they didn't use any peanuts or tree nuts at the breakfast buffet. (I didn't ask about traces since it didn't apply to me. And I would never recommend anyone with food allergies eat from a buffet, regardless.) My allergies were noted on every reservation, they put a bright red 'ALLERGY' stamp on our reservation ticket when we arrived, and the chefs took my orders on their little yellow special diets notepads and pink allergy tickets. My meals usually came out with allergy toothpicks in it.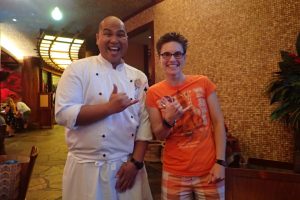 Character Breakfast: The chef asked me what I wanted to eat for breakfast, and what I normally eat at home. Originally, I said I eat oatmeal for breakfast at home, and the chef said he could make me some… but then I mentioned how most traditional oatmeal isn't safe due to traces of wheat. I was initially uncomfortable with this chef as a result of that confusion, which I partially caused, but the situation quickly turned around when I mentioned Mickey waffles and fruit and he came back with photos of all the ingredients and told me how they are made in a dedicated waffle maker, in a dedicated area of the kitchen to prevent cross-contact. Even the fruit for my meal was prepared separately and fresh to ensure it was safe. The waffles came with powdered sugar, small sealed jars of pure maple syrup, and a heaping plate of tropical fruits. The chef cleared all ingredients with me before placing the order. The waffles were the best I've ever had and the fruit was fresh and flavourful.
At the end of breakfast, when I could barely eat another bite, the chef came out with a beautiful anniversary 'cake' made from fruit. He said that because I couldn't have the normal anniversary cake that he wanted to do something special, and fruit was the only guaranteed safe option. The 'cake' was like a piece of art… I didn't want to eat it… but I did. Well, part of it; I was too full to eat it all. My husband got the regular anniversary chocolate mousse/lava cake.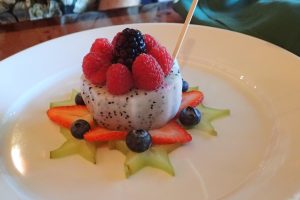 Character Dinner: Again, the chef came out to ask what I wanted to eat. I had spoken with this chef before and he already knew my preferences, but he wanted to make something different. He asked if coconut was safe for me, which it is (in most cases), and made a light and flavourful tofu and vegetable dish with a coconut-lime-ginger dressing. I should have asked for the coconut sauce recipe – it was that good. I also had salad and a tropical fruit bowl for dessert. Again, the chef mentioned how my meal would be made by him in fresh pans with fresh utensils to make sure it was safe and free from cross contact. That reassurance and attention to detail is much appreciated.