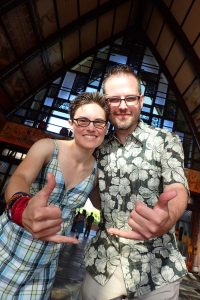 Special diets: allergic to tree nuts, peanuts, potato, wheat, and sorghum; dairy intolerance; vegan preference
This quick review was provided by Jennifer, who is allergic to tree nuts, peanuts, potato, wheat, and sorghum, is dairy intolerent and has a vegan preference.
AULANI, in general: The food at Aulani is simple, based mostly on Hawaiian and Japanese cuisine. There are only two small table service restaurants. As such, options here can be somewhat limited, depending on your allergies. For picky eaters and people with long allergy and special diet lists like mine, there aren't many options, but the chefs are fantastic at coming up with creative menus and new ideas to provide safe and pleasing meals. The chefs provide the same high-end allergy service you expect from Disney, though they have fewer ingredients to work with. We were very satisfied with the food service, overall.
The chefs circulate between both restaurants, so you will begin to see familiar faces in both places if you go back often. We had one particular (and very good) chef three times: once at Makahiki and twice at 'AMA'AMA.
The main gift shop sells a small selection of 'Snacks with Character', which are allergy-friendly treats, but not all top-10-free. Some were Enjoy Life treats. Be sure to check the labels on every item, every time!
The chef we spoke with before our visit told us that the only safe places for me to eat would be Makahiki, 'AMA'AMA, and the shave ice stand. The quick service locations and luau wouldn't be able to accommodate my allergy list.
Studio rooms have a kitchenette that is great for preparing simple meals. You can also request a rice cooker to use in your room. For the two of us, this combination of microwave, fridge, and rice cooker, with a heavy dose of creativity, kept us well fed outside of our dining reservations. Villas have a full kitchen with range. Grocery stores are within a five minute drive to Kapolei: Costco, Walmart, Target, and Down to Earth natural food store (with plenty of allergy-friendly brands) are all there – plus more, I'm sure.