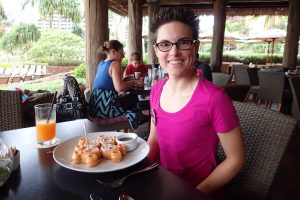 This is a more formal table service restaurant, with a dress code.  We ate here several times throughout our trip and experienced excellent allergy service from the chefs.  My allergies were noted on every reservation, they put a bright red 'ALLERGY' stamp on our reservation ticket when we arrived, and the chefs took my orders on their little yellow special diets notepads and pink allergy tickets.
This quick review was provided by Jennifer, who is allergic to tree nuts, peanuts, potato, wheat, and sorghum, is dairy intolerant and has a vegan preference.
My meals usually had allergy flags in it when it came out and the server would then recite what the dish was and my allergy list (or most of it) before placing the food in front of me.  One server even had a son with multiple food allergies, including potato, and we chatted for a bit about food allergies.  Everyone was very quick to check ingredients if I had any questions (like the thinly shaved radish that looked like cheese on my salad one day.)
Breakfast:
 They have a dedicated Mickey waffle maker here, just like at Makahiki, with the same waffle mix.  Since that's my favourite breakfast at Disney, why try anything else?  (Nothing else looked safe or interesting, anyway.)  After the chef brought out photos of the waffle mix ingredients for me to check, and confirmed everything, I had a large plate of waffles, warmed maple syrup, and a side plate of fruit for breakfast.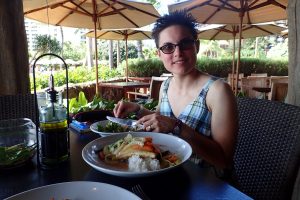 Yum!  The chef at Makahiki had a better presentation for breakfast, but that is likely due to that particular chef being more creative than the one I had at 'AMA'AMA that morning.
Lunch: We had two lunches here.  They have both an allergy menu and a vegetarian menu you can have on request.  Upon speaking with the chef, we were able to make options on the vegetarian menu safe for my allergies.  Both days I opted for a salad and a pan-fried tofu dish, though different variations each day.  They don't have beans in either kitchen… so tofu it was.  No safe desserts except fruit, which we skipped in favour if shave ice later in the afternoon.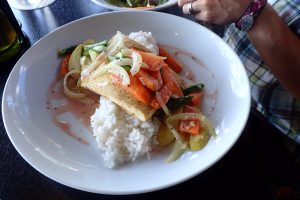 Dinner:
 We actually canceled another lunch reservation to eat a second dinner here.  This is a beautiful location to watch the sunset over the beach whilst you dine.  The dress code and atmosphere are a little more refined at dinner time, which we appreciated.  After all, we never eat out at home (due to allergies) and don't get to dress up often outside of vacation.  They have both a vegetarian and allergy menu at dinner as well.  The chefs again were able to make something from the vegetarian menu safe for me.  One night it was a stir-fried vegetable dish and the other was a quinoa salad.  I loved their salads and papaya seed vinaigrette – which was good on salad, vegetables, and tofu.  The only safe dessert option was fruit, and we usually skipped it for a treat in our room instead.