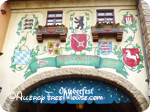 This quick review was provided by Sherill, whose daughter is allergic to all nuts.
We have eaten here several times, and the nut allergic family member loved that all of it was safe. She particularly enjoys being able to eat dessert. We came here on Christmas Eve 2017 and were given a food allergy guide grid which confirmed that everything was safe. We went straight to the desert part of the buffet and loaded up a plate with desserts. When we got to the table, the chef had come to discuss the food allergies. He told us that two of the desserts were not, in fact, safe. They had added two desserts that week that were not safe for nut allergy. If he had not shown up at that time, I think my daughter would have eaten a bit of the almond flour desserts already. He brought her desserts from the kitchen that had not mingled with the buffet desserts. It was a close call.
Recommend Biergarten for nut free?: Yes
If you would like to review Biergarten or any Disney restaurant, submit a food allergy dining Quick Review.