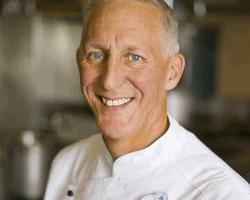 Disney's Culinary Dietary Specialist for Walt Disney Parks and Resorts, Chef Gary Jones spoke at the FARE National Conference in San Antonio. He gave a great overview of just how many meals they serve including 750,000 food allergy meals.
He also discussed the basic process for making reservations 180 days in advance and to note your food allergy on each reservation. You can indicate that you have the top 8, plus corn. They added corn based on feedback from the Special Diets team who receive a lot of requests for corn allergies. If you have other allergies, a complex set of allergies or PKU needs, it is suggested that you call and speak to Special Diets, 14 days prior to your trip.
He stressed that you should discuss your food allergies when you arrive at each restaurant. He wasn't specific about which Cast Member, but we recommend you tell everyone, starting with the host or hostess, the server and anyone who may handle drinks. He also recommended speaking with the chef if you have any questions, and also stressed that the chefs love to do it. He explained the logistics of the chefs coming out to meet with visitors and that, on some days, they were spending more time on the floor than in the kitchen, especially during peak times. Since this prevents the chef from actually cooking, they instigated the food allergy friendly menus and asked Cast Members to suggest their use. However, he again stressed that the Chef will always come out if you ask, and suggests that you ask if you have any questions or concerns. In fact, the chefs insisted that this be recommended at the top of the food allergy friendly menus.
Additionally, we suggest that you review the online versions before you go. Sometimes the food allergy friendly versions are on the Disney site, but you can also find them here, at the Disney Food Allergy group on Facebook or via Google. While they may change a little by the time you arrive, you will still have a good idea what to expect when you arrive and it can help you with your conversation with the chef.
Chef Gary also discussed the process when you travel on Disney Cruise Line. Essentially, your food allergy requests should be sent to the DCL Special Diets team 14 days before you sail, so they can have everything on the ship. He didn't mention it, but there is also a Dining Session on embarkation day. See more of our Disney Cruise Line food allergy tips.
Disney World, Disneyland and Disney Cruise Line each have their own Special Diets team and their email addresses are:
Disney World: specialdiets@disneyworld.com
Disneyland: Special.Diets@disneyland.com 
Disney Cruise Line: SpecialServices@disneycruise.com
Chef Gary also discussed a few disclaimers. This included a discussion of the kitchen and that each one as a special prep area for food allergy meals. They do not have separate kitchens. They do have fryers that are peanut and gluten free, but there are no separate kitchens. In the area designated for food allergy prep, they do have dedicated utensils, and other items used just for food allergy meals. But sometimes the dedicated area has to be cleaned and prepped when you arrive, since it may be used for other purposes.
One of the attendees asked about requesting specific brands of foods. Chef Gary said that they have certain specific brands, but those can change. However, specific food brands cannot be requested except in very rare circumstances. Additionally, the chef always knows which brands he has available. Chef Gary didn't mention it, but we've actually reviewed an ingredient list, cut from the box by a chef when we requested it. They can also discuss and "may contain" labeling the food products on hand may have.
Next, he discussed bringing your own food. You can bring it, but Disney cannot store it, keep it cool and prepare your meals with it.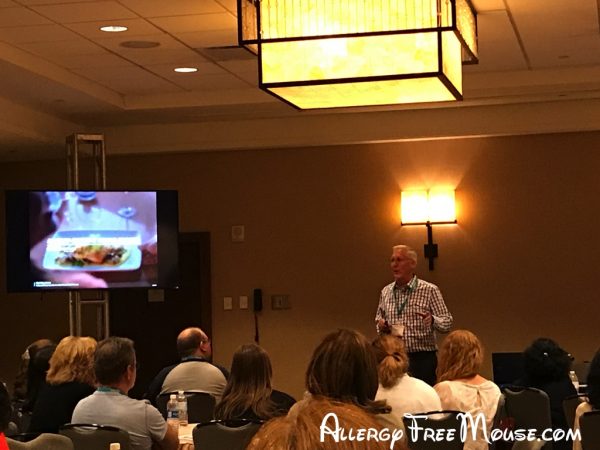 He also had a quick discussion about fryers. While they don't use peanut oil, the oil they used is a mix that includes soy. So, the french fries do contain soy. He also said they are constantly looking to change that, including possibly using highly refined oil, which is supposed have the allergens removed. However, since the science is not yet clear on highly refined oil, Disney does not use it.
Next, he discussed a new process that is coming soon for buffets. Currently, a chef may offer to walk you through the buffet to explain what is safe or can be modified for you. Then, the chef gives you the option to pull from the buffet or he or she can prepare it fresh for you. For cross-contamination concerns, we recommend the chef prepare it.
Coming soon are food allergy guides for buffets. He explained some testing they did, using signs on the buffets. But said they ultimately decided it was too problematic. So, they developed the guides that explain all of the items and the allergies for which they are safe. Then, you have the option to visit the buffet or speak to the chef to have it prepared fresh. Chef Gary stressed that they are just guides and do not replace the interaction with the chef.
There was also a discussion about kiosks. There is one in Animal Kingdom that has pre-packaged food allergy friendly snacks. Update: Unfortunately, this location no longer has food allergy snacks. He also discussed the logistics of food kiosks, like those in Epcot at the Food and Wine Festival. The food in these kiosks is prepared in a kitchen far away and transported to the kiosks, where many opportunities exist for cross-contamination. And while there are managers in the various kiosk zones that can answer questions and even possibly have food allergy safe alternatives prepared, it does come with some risk. However, they have made some gluten-free options available at some kiosk locations.
Afterward, Chef Gary stopped by our table. We discussed some of our favorite chefs and that they are almost like aunts and uncles to our daughter and more important the Mickey Mouse to us. He confirmed that they are all very passionate and love the interactions with guests and getting to know them over the years.