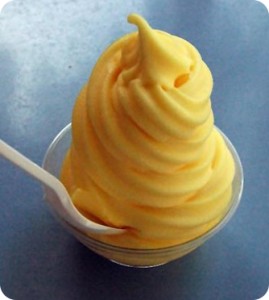 One of the most popular treats at Disney World is the Dole Whip soft serve. A few years ago, we posted about the change in formula, making it dairy-free, but with a cross-contamination risk. However, a couple of years ago, Disney World made the pineapple soft serve the exclusive offering at Aloha Isle, then made the Dole Whip available in several other locations. So, we thought it was time for an update, since our previous posts are still top pages on our website.
While the Dole Whip is now free of most of the top 8 food allergens, it does contain coconut oil and carries a warning for tree nuts. Check ingredients at the Precision Foods website and also, verify with the Cast Member and ask to see the ingredients in their Food Allergy Book.
Where to find Dole Whip at Disney World
Dole Whip at Magic Kingdom
UPDATE 3/1/2019: New Dole Whip flavors at the Magic Kingdom.
In Magic Kingdom at Aloha Isle. However, Aloha Isle and Sunshine Tree Terrace swapped places, due to the demand of the Dole Whip. Aloha Isle is now located near the Magic Carpets of Aladdin and the Tiki Room. Update 12/2017: Aloha Isle re-introduced the vanilla flavor, which contains casein, in machines with pineapple, for swirling. However, they still have a single machine dedicated to pineapple. If there is any confusion, or to verify since they could change at any time, speak to a manager.
Dole Whip at Animal Kingdom
In Animal Kingdom, in Africa at Tamu Tamu Refreshments. Here, you'll find the classic Dole Whip and two varieties with rum.
Check out the Tamu Tamu menu
Dole Whip at Disney's Polynesian Resort
At Disney's Polynesian Resort, at the Pineapple Lanai on the way to the pool. Keep in mind, the Dole Whip served here includes the vanilla flavor, which opens up the possibility for cross-contamination. However, make the Cast Member aware of your allergy and they will take extra caution to avoid cross-contamination. If the Cast Member is unsure, ask for a manager. We found out that some Cast Members haven't taken the training for food allergies. Those that have, are able to serve it safely, reducing the chances of cross-contamination.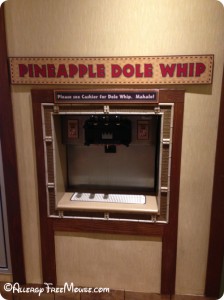 You can also find a Dole Whip dispenser in Captain Cooks, the quick service restaurant. It's a self service dispenser, so there could be a cross-contamination risk from other patrons.
Also, around the corner at the outdoor Trader Sam's Tiki Bar, you can find Dole Whips with rum, again.
NEW! Dole Whip at Pop Century
Yes, you can find Dole Whip at Disney's Pop Century Resort. They've made many improvements at Everything Pop and the addition of Dole Whip is one of them. Update 5/4/2018: This is a swirled configuration! For machines that swirl with vanilla, there is a possibility of cross-contamination. We're going to contact the manager and ask about getting a dedicated machine. Until then, proceed with caution if you're allergic to dairy or soy, as the vanilla soft serve has both, according to the website.
Dole Whip at Disney Springs
Update! You can now get Dole Whip at Marketplace Snacks. Be aware, the dispenser also has the vanilla soft serve. So, there is a cross-contamination possibility. We spoke to the Cast Member who informed us that they do not follow the same process as the Pinapple Lenai, and sometimes switch the mixers containing the pineapple and vanilla mixes.  Maybe this will change in the future.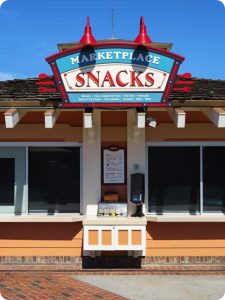 Dole Whip at Epcot
Occasionally, you can find Dole Whip at Epcot during festivals, like the Food and Wine Festival, at a kiosk near Canada.
If you spot a Dole Whip at some other location, please let us know!
Dole Whip at Disneyland
Tiki Juice Bar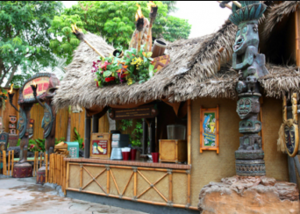 Tangaroa Terrace next to the Disneyland Hotel
Dole Whip on Disney Cruise Line!
Yes, Dole Whip is now available on the Disney Wonder. It may be available on other Disney Cruise ships. In this case, it's available individually, swirled or with rum. Always ask about cross-contamination and check the ingredients.
Just a quick summary of Dole Whip food allergens (but always ask when you arrive!):
Pineapple Dole Whip is free of the Top 8 food allergens.
Vanilla Soft Serve contains dairy (casein) and soy.
Mango Dole Whip is free of the Top 8 food allergens.
Raspberry Dole Whip is free of the Top 8 food allergens.
Lime Dole Whip is free of the Top 8 food allergens.
Lemon Dole Whip is free of the Top 8 food allergens.