This quick review was provided by Katie, is allergic to peanuts and tree nuts.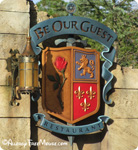 I had an awesome experience here! I went for the quick service lunch, and ordered the carved turkey sandwich. I ensured that the cast member was aware of my allergies, as you should as well, should you dine here, as the food may come out before you meet the server, which is what happened to me.
I also had ordered a masters cupcake. A leader and the server brought out my food, and the only difference in the food from the non allergy food was the cupcake didn't have the pearl type decorations on top, and the sandwich wasn't served on the baguette. Instead of the baguette I got two sandwiches on a different bread.
Very good experience!
Recommend Be Our Guest for a peanut or tree nut allergy?: Yes
If you would like to review Be Our Guest  or any Disney restaurant, submit a food allergy dining Quick Review.