This quick review was provided by Taylor, who is allergic to peanuts, tree nuts, coconut, dairy, and soy.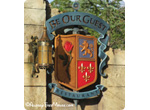 I was very excited to dine at Be Our Guest, as this restaurant wasn't open yet when I was last in Disney. Unfortunately, due to my allergies, I was too scared about eating at a QS restaurant so I opted to dine here for dinner early one evening.
The chef came out, per my request, and went over my options. For appetizer, I decided on the onion soup without cheese or croutons (Chef seemed somewhat unsure, so I just opted out). It was very delicious! It reminded me of the onion soup I used to eat back in the day, pre-allergy. For dinner, I opted for the skirt steak with roasted fingerling potatoes. It was very delicious and flavorful!
Unfortunately, my dessert options were limited to sorbet, enjoy life cookies (just the boring chocolate chip ones), and rice dream. I wasn't too fond of any of the options, so I took the cookies for the go.
Overall, it was a very delicious meal and I most certainly will be back!
Recommend Be Our Guest for peanuts, tree nuts, coconut, dairy, and soy food allergies?: Yes
If you would like to review Be Our Guest or any Disney restaurant, submit a food allergy dining Quick Review.