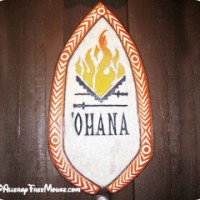 The chef arrived promptly at the table and explained he would make our daughter her own wok with everything but the eggs and her own safe waffles.
The kids loved the characters and their meal, but overall, my husband and I found the food quality at this character buffet the most disappointing.  For our personal tastes, it was too salty and greasy, without many healthier alternatives like we were able to find at the other buffets.
Read the full Disney World food allergy trip report here.
Recommend 'Ohana for dairy and egg free?: Maybe
If you would like to review 'Ohana or any Disney restaurant, submit a food allergy dining Quick Review.