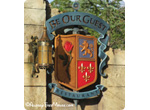 We had a great experience here. I was really nervous before hand because of all the bad reviews I had read on line, however, we enjoyed our food and the whole experience.
We had a 5 PM reservation and were seated on-time. The waitress brought out the allergy menus and told me if I ordered directly from the menu with no alterations I would not need to speak with a chef…I told her I preferred to speak with one anyway and she was very obliging. She even said, she didn't blame me and she would want to speak with one as well.
I was very impressed with the amount of options available to my daughter on this menu. She had a least 5-6 things she would choose from. Again I think she chose the fish, rice and broccoli and cookies for dessert. Her sister was in heaven with her first ever macaroni and cheese and I had the lamb chops which were cooked perfectly to medium rare. We were also happy to get a bottle of wine and at a decent price. Service was really prompt and we were able to be out of the restaurant in 75 minutes, waiting only at the end for The Beast to return. I had expected bad theme park food here, and was pleasantly surprised. The grey stuff though….not so delicious. Boo. Had to try it for myself though. LOL
Read the full Disney World food allergy trip report here.
Recommend Be Our Guest for dairy and egg free?: Yes
If you would like to review Be Our Guest or any Disney restaurant, submit a food allergy dining Quick Review.