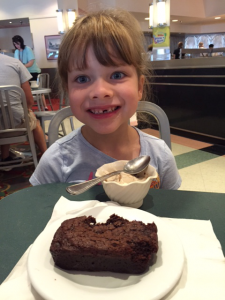 Great waiter and Great Chef.  I thought at first the chef was a bit grumpy as he just stood there and asked what we wanted, but then he brought out loads of safe foods for our daughter and even gave me some packaged Soy Milks to go.
They also made her a brownie/ice cream dessert since they brought out a birthday cupcake for her sister.  I liked that they were considerate enough to privately ask me whether it was okay to bring out different surprise desserts or if I would want them to be the same.  This was our favourite character breakfast for service and fun for the kids. (Food was better than we expected for us.)
Read the full Disney World food allergy trip report here.
Recommend Hollywood & Vine for dairy and egg free?: Yes
If you would like to reviewHollywood & Vine or any Disney restaurant, submit a food allergy dining Quick Review.