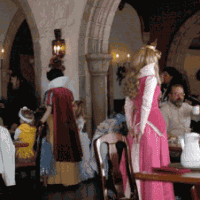 Just like at Chef Mickey's, we were encouraged to review the buffet to point out items safe for our food allergies, and again we told the chef it wasn't worth the risk of cross-contamination. So the chef brought out waffles (bit of a bummer that they were Vans and not Mickey waffles, but oh well), fruit, granola, and bacon.
My husband and I liked the Norwegian fish options here. The only thing I didn't like at this restaurant was that the table was so small it was hard to fit our family style platter on it that was full of the foods my daughter was allergic to.  I probably would avoid breakfast here again because of that.
Read the full Disney World food allergy trip report here.
Recommend Akershus for dairy and egg free?: Maybe
If you would like to review Akershus or any Disney restaurant, submit a food allergy dining Quick Review.