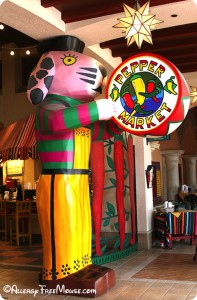 Chef Ricardo rocks! He really went above and beyond his duty to help us.
We explained how much our daughter loved the Maya Grill and the build-your-own tacos she had there. He basically prepared the same thing for her lunch. My husband and I ate from the "buffet" where, basically, you walk around to each of the "market" booths and select your meal, quick service-like.
The next day, we knew Chef Ricardo was working during breakfast. So, we returned to the Pepper Market and he met us at the table to discuss our daughter's options. She told Chef Ricardo that she loved the allergen-free Mickey Waffles, eggs and bacon. As a surprise, and big treat, he made Mickey pancakes! It was so exciting for her!
We told him about our Disney cruise and asked if it was possible to get anything "to go" so that we would definitely have safe food for her when we boarded the Disney Dream the next day. When you board the cruise ship, the quick service pool-side restaurants are open, and the pizza and ice-cream are readily available. And, while we could possibly speak to the head chef to prepare something safe, it wasn't a sure bet. So, Chef Ricardo made us a "to go" version of her favorite build-your-own tacos to take with us when we boarded the cruise ship. It turned out to be the perfect option.
Chef Ricardo showed so much concern and was so happy to help. He gave us his personal contact information for our next visit, any time we need to get our daughter a safe Mexican fix. Of course, not only is he willing to do this for us, he stays in contact with many other families that have visited his restaurant. We love Chef Ricardo!