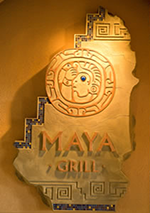 The Maya Grill is our daughter's favorite restaurant in "the World!" As a Texan, I raised her to love Mexican and Tex-Mex food. Well, the Maya Grill is heaven for her! She never gets to eat Mexican food at restaurants because of all the dairy in the kitchen, and the chefs and kitchen staff are not trained in food allergy safety. But at the Maya Grill, she got to eat Mexican food that was safe and, not to mention, delicious!
We started with the salsa, guacamole and chips, though the chips actually came from the Pepper Market, next door. Our fabulous waitress, Michelle, recommended their chips over the Maya Grill's chips, which were located in a general area and could have been in close proximity to dairy. Next our daughter ordered black beans, rice and flour tortillas, and made her own tacos. The flour tortillas are fresh and tiny — like 2-3 bite tacos!
We now have to eat at the Maya Grill on every trip to Disney World! Really. Not Be Our Guest, not Cinderella's Royal Table, not the Brown Derby, but the Maya Grill!
Also, we were taken care of by a fabulous waitress, Michelle. She waited on us all three nights we dined there, though once we had to wait for one of her tables, as she is very good and very popular. Unfortunately, she was about to leave to go back to school to become a teacher, like her mother, who, incidentally, met her father at Disney. She's going to make a great teacher, though we will miss her on our next visit.
And another bonus is a fantastic guitar player named Marcello, who plays a wide range of contemporary and classic 70s and 80s Top 10s, all instrumentally on the guitar. It was a really great time, with excellent Mexican food and wonderful acoustic guitar music. What's not to love?
PS – there were also several gluten-free options on the menu.  Zoom in on our menu photo to see them marked "*GF"
Maya Grill menu (photo)