We received this from Shannon, whose son is allergic to peanuts, tree nuts and eggs.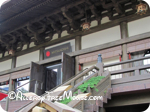 First, thank you so much for your blog, it has been very helpful at navigating around Disney World!
I got very worried as I read that some of the Epcot restaurants were not owned by Disney and therefore the chefs may not be trained the same.
My son, who has a peanut, treenut and egg allergy was very excited about going to Teppan Edo because he loves to cook, he wanted to see the chefs in action.
Normally I would never consider going to a similar restaurant, but in Disney I felt safer.
I decided to call ahead and speak to a manager. He assured me that there are no peanuts/tree nuts on the premises. He mentioned that the noodles have eggs in them, as does their white yum-yum sauce, both are easy to just avoid. They do not make fried rice, so there is no eggs on the grill.
Can't tell you how thrilled I was that I was able to keep my reservation and let my son be apart of this exciting dining experience.
We are traveling over Thanksgiving, so I'll be sure to touch base with you again and let you know how our experience was!
If you would like to review Teppan Edo or any Disney restaurant, submit a food allergy dining Quick Review.