This quick review was provided by Carrie, whose sister-in-law is allergic to dairy, eggs, pork and corn.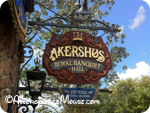 We went for the princess breakfast. It was so good and Chef Jerry was awesome!
After we were seated Chef Jerry came out to talk to my sister-in-law who just found out she had these allergies. He walked her through the buffet and told her what she could and could not have. She figured she would be just eating fruit. Boy was she surprised when he came out with waffles with dairy free butter and he called over to Morocco to get her some turkey sausage! He was great! That was the first time in about a month my sister-in-law was able to actually eat out at a restaurant. She was in heaven!
Chef Jerry was very good and attentive. I would recommend this to anyone with allergies, hands down!
Recommend for dairy, eggs, pork and corn: Yes
If you would like to review Akershus Royal Banquet or any Disney restaurant, submit a food allergy dining Quick Review.