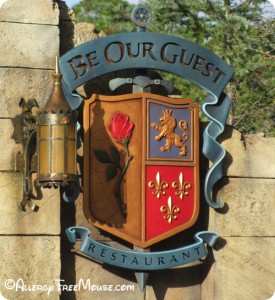 This quick review was provided by Darrin, whose son is allergic to Dairy, Peanuts, Tree Nuts.
My son is allergic to dairy, peanuts and tree nuts, and depending on his mood, Disney princesses. Needless to say, our dinner at Be Our Guest restaurant was more for our two daughters than our son. But in the end, he became a fan of this restaurant.
As usual, the chef came out and discussed our allergies and told us what she could make for our son. He had the grilled steak with brown rice and seasonal vegetables. The chef also gave him a bowl of plain macaroni with marinara sauce on the side. It was so good that he finished everything on his plate and also half of his sister's (all the kids get the same so there is no arguing).
Be Our Guest delivered on the high standards for food allergies that we now expect with the Disney brand. But it's the little things that make my son smile. The bread that they serve before dinner is dairy and nut free. But the thing that topped it all was that they had Earth Balance non-dairy butter for him. It may sound trivial, but being able to eat bread with the rest of the family made his day.
Our daughter says Be Our Guest is her favorite, mostly because she can eat the bread with us, too.
Recommend for Dairy, Peanuts, Tree Nuts: Yes
If you would like to review Hollywood & Vine or any Disney restaurant, submit a food allergy dining Quick Review.