As you may know, we like to plan our Disney World trips using this planning sheet that keeps everything together, concisely organized in a way that facilitates easy access. We put one together for our upcoming Disney Cruise and decided to share it, too.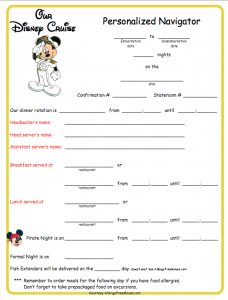 First, check out our Disney Cruise section, including lots of tips for sailing with a food allergy. Then download this form and take it with you on your cruise. It will help you plan and manage your cruise itinerary.
If you want updates, plus an offer related to the Disney Cruise Planner & Personalized Navigator, use this form to register. (Don't worry, your information is completely confidential and will only be used for updates and offers related to this Disney Cruise Planner)
Also, if you've been on a Disney Cruise and have feedback for our planner, please use the form below and let us know.