This quick review was provided by Amy, whose son is allergic to Dairy/Mik and Peanut.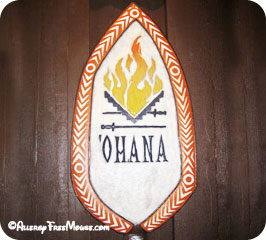 We'd been before to Ohana when our highly allergic son was 15 months old and still allergic to egg as well. We had a great experience then, but he was made a special meal separately from the 'family style' fare they serve. This time we were pleased to find out that only three things were off the table for him…peanut sauce, bread, and bread pudding! Chef Boone was amazing & made us feel so well taken care of, offering Greyson some gluten/allergen free rolls & spread to compliment his meal. Grey was able to eat ALL that we could, and it was such a great surprise. At the end of our meal, we were more surprised as Boone brought out an amazing creation for Grey's dessert of Tofutti ice cream sandwiched between 2 allergen safe cookies, drizzled with chocolate syrup and raspberries. I highly recommend the Ohana experience, and felt we were in excellent hands. (No reactions to report 🙂
Recommend for dairy and peanut: Yes
If you would like to review 'Ohana or any Disney restaurant, submit a food allergy dining Quick Review.