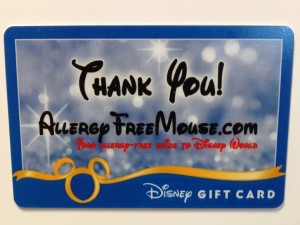 We just sent a $25 Disney Gift Card to Maria in New Hampshire, who sent us this Earl of Sandwich review.
Her entry was randomly drawn from all of the Disney food allergy reviews we received from readers, some of whom sent us multiple reviews.
We're going to continue the contest for May!
Every quick review you send will become an entry for the random drawing, so please share as many as possible. It really helps other people with food allergies plan their Disney vacation.
We occasionally receive a few that we can't really consider as reviews. We like to share the full experience; tell us about the restaurant, why you chose it and about the service, especially as it relates to food allergies. Include  a picture, if you want. If you send us a review that isn't about a great experience, please include as many details as possible. We occasionally receive reviews that are mediocre or even bad, however, we need to know the details in order to help learn from the experience. We want the good and the bad reviews, but details make the difference and help the next reader make their plans.
The drawing will occur in early June and we'll publish the winner online again.