This quick review was provided by Maria P, who is allergic to Eggs, Peanuts, Tree Nuts, Soy Flour, and Soy Protein.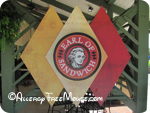 As soon as we got there my husband got in line with the kids and I asked the first cast member I saw if I could speak to the manager about allergy safe choices. The manager came right out and went over the menu with me. Because we had the dining plan and our children with allergies are 3 and 4 we only had 3 items to discuss.
The children's menu includes grilled cheese, pizza sandwich and turkey and cheese. The bread is all egg free there but the pizza sauce is the same as the sauce for the meatball sandwiches and the meatballs are cooked in peanut oil. The turkey and cheese sandwich is fine if you order it without mayonnaise.
By the time we reached the front of the line all 7 of us had figured out our order. The meals on the dining plan come with entrée, drink and dessert. All the desserts are made in-house and labeled with the ingredients. Unfortunately the ingredients list on some things were vague. The chocolate pudding listed ingredients as chocolate pudding, whipped cream and strawberry. Now Jell-O chocolate pudding is okay but I asked about theirs' since it's homemade. Good thing I asked, it had egg in it. The strawberry shortcakes ingredients were listed the same way but I knew their was no way the pound cake would be egg free. We settled on strawberry Jell-O with fruit on top. They basically ate the fruit off the top and wanted to go on to the Mr. Potato Head store.
Over all we were happy with the experience. The sandwiches were wrapped and bagged separately and we felt like our concerns were handled appropriately. Our first Disney dining experience with allergies: Success!
Recommend for Eggs, Peanuts, Tree Nuts, Soy Flour, and Soy Protein: Yes
If you would like to review Earl of Sandwich or any Disney restaurant, submit a food allergy dining Quick Review.