This quick review was provided by Gretchen, whose son is allergic to peanut, cashew, egg, and dairy.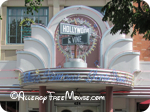 After being seated, we had a chef arrive within 8 minutes to walk us through the buffet. He said we could just pick up things from the buffet but stay away from baked goods. I told him I would prefer something be prepared in the kitched for him so we could avoid cross-contamination. He said all they could make was Van's frozen waffles and fresh fruit. So that's what DS ate. We eat this at home, so he was fine.
I'm glad he was just a week shy of 3yo, because I'd hate to pay the character meal, table-service price for a 3yo to just eat frozen waffles! But my son was all about Special Agent Oso and loved every minute here. One note…the chef said strawberries aren't normally on the breafast buffet, but he brought some out for DS, which he loved. So, that was nice.
Recommend for peanut, cashew, egg, and dairy: Maybe
If you would like to review Hollywood & Vine or any Disney restaurant, submit a food allergy dining Quick Review.