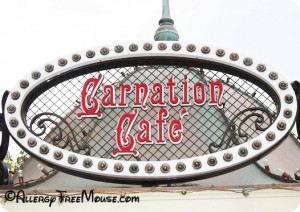 This guest review was provided by Sherry, who blogs at
Mission Mama
.
Traveling with food allergies is at the very least a challenge but at the very most completely dangerous. Most places are not careful enough with cross contamination or diligence in ingredient literacy. I feel a little like I'm playing Russian Roulette. With multiple food allergies, several autoimmune disorders and  IBS, I was very nervous before our trip.
At Disney I had little to be concerned about. The quality of care taken to prevent cross contamination and label misreading is extraordinary. Though I wish they would use more modern dairy and egg substitutions for desserts, there were a few food highlights I would like to mention. If you are vegan and/or gluten free, you must try the Chef's Vegan Burger with avocado (instead of mayo) on a lettuce "bun" at Carnation Cafe in Disneyland.  Wow!!!!! It was so amazing I asked the chef for the recipe. To my knowledge it is the only bean burger in Disney. But it isn't just any bean burger, it is incredible! And yes it is fully gluten free. It's the chief's own special recipe. It was so delicious that I asked the chief for the recipe, and he really sent it to me! Apparently you can ask for any recipe at Disney and they will actually send it to you.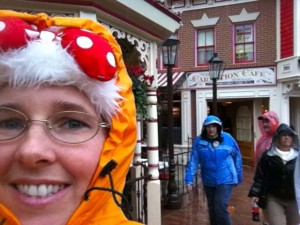 If you have an allergy to gluten, eggs and dairy, go ahead and eat the raspberry sorbet once. After that try the kettle corn, the Dole Whip (Disneyland) and BYOC (bring your own chocolate). I wrote a post on my complete vegan/gluten free experience at Disneyland. Click here to check it out.
I want to thank Liz for this website. I like the collection of Disney experiences represented here.
If you would like to review Carnation Cafe or any Disneyland or Disney World restaurant, submit a food allergy dining Quick Review.