This quick review was provided by Michelle, whose food allergies include: dairy, eggs, poultry, fish, fruits, nuts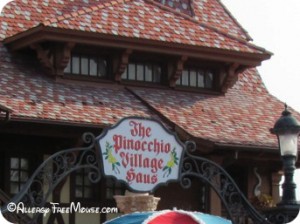 I must admit, I was a little nervous about feeding my daughter in Magic Kindgom even though I had been assured by the Special Diets team that we would be taken care of wherever we decided to eat. Just in case, I had packed a bag of food for my daughter to eat. I am happy to say that she did not eat any of my pre-packed food.
The manager and staff at the Pinocchio Haus were absolutely amazing. When I walked into the facility, I immediately asked to speak with a manager as we had food allergies. The manager was paged immediately and came out to speak with us. They told us what was available and asked us what our daughter wished to eat. She then consulted a food binder and had me read the ingredients to ensure that they were safe for consumption. We were then given a food pager and told that when our food was ready for the entire party we would be paged and we could then come and get it. The food took a little longer than projected to arrive but we did not mind because I knew it was safe. After discussing the options with manager, my daughter really wanted french fries and apple sauce.
Thank you to the staff for your care and alleviating all of my concerns.
Recommend for food allergies: Yes