This quick review was provided by Scott, whose wife and daughter are gluten free.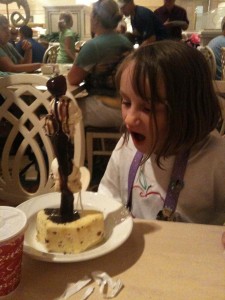 My wife and daughter are gluten free. Going to Park Fare is always a great experience because the chef always takes extra care of them both. For my wife it is a chance to have great pasta. For my daughter she loves the special dessert they always bring out to her. It always produces a wow face from her. Oh, and the characters are great too.
Recommend for gluten: Yes
If you would like to review 1900 Park Fare or any Disney restaurant, submit a food allergy dining Quick Review.