This quick review was provided by Heather, who is allergic to gluten.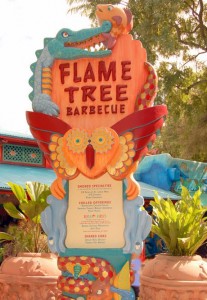 We loved our dinner at Flame Tree. We informed the cashier of our gluten allergy and she immediately sent over the manager. The manager was friendly and immediately brought out the ingredient book. My husband and youngest son are on a strict gluten free diet due to Celiac Disease. My husband ordered the ribs and beans and he ordered the gluten free brownie (OMG brand) for dessert. They gave my son a plate of Grilled Chicken. He was given two chicken legs, a package of grapes and allergy safe French fries that were cooked in a dedicated gluten free fryer. He had the gluten free chocolate chip cookie (Enjoy Life Foods brand) for dessert. It was a delicious meal, and one we look forward to again.
Recommend for gluten: Yes
If you would like to review Flame Tree BBQ or any Disney restaurant, submit a food allergy dining Quick Review.