This quick review was provided by Heather, who is allergic to gluten.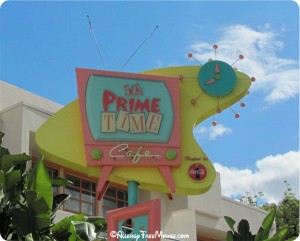 This was our favorite gluten free dining of our trip! We loved 50's Prime Time. We eat gluten free, and we were amazed at our options here. They offered to make my husband gluten free fried chicken. He loved it! My child ordered gluten free chicken nuggets and allergy safe fries cooked in a dedicated fryer. They both devoured their meals, and got their "clean plate club" stickers. :). For dessert my son had a gluten free brownie that was made in-house. It was thick and like a flour less chocolate cake. He loved it! My husband had Dad's Brownie Sundae, with the gluten free in-house made brownie, ice cream, fudge and caramel corn. It was incredible! We will be returning to 50's Prime Time on all future Disney trips!!
Recommend for a gluten allergy: Yes
If you would like to review 50's Prime Time Cafe or any Disney restaurant, submit a food allergy dining Quick Review.