We have another guest review from Tara Wolfe who shared her son's dining experience with multiple food allergies. Kevin is allergic to milk, eggs, peanuts, all tree nuts and coconuts.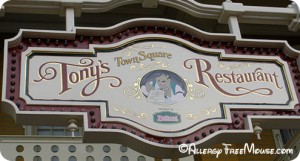 Having a child with dairy allergies, I would have never thought that Tony's Town Square would be safe for him, since it is Italian after all. But after my husband and son convinced me to try it (they love The Lady and the Tramp), I gave in. Not to mention the location of the restaurant. It is right on the path for the nightly parades. So, if you find yourself eating there around parade time, ask for a table close to a window or on the patio. I love just looking at all the pictures lining the room. Seeing Lady and the Tramp share a bowl of pasta always makes me want to recreate that with my husband. But having an 8 year old cringing and covering his face kind of kills the mood. But the decor is so beautiful. Only in Disney can you have such themed restaurants.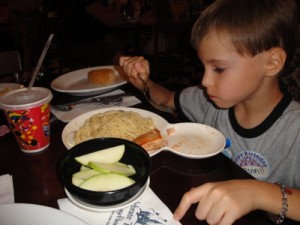 As for the food, many have said they do not like it here. But we have always had a wonderful meal. In 2010, Kevin had the Grilled Salmon with spaghetti noodles, a safe roll, and apple slices for dessert. The following year, he again had the Grilled Salmon with spaghetti and sauce, green beans & carrots, and for dessert a fruit cup. My husband choose the Pollo Parmigiana, and said it was pretty tasty. I choose the catch of the day, which was Mahi Mahi, over Mushroom Risotto. Wow, no where but Disney can you get such wonderful risotto. But what I mostly love here is the desserts. Every time we eat here, there is something different. Although, my husband always gets the cheesecake, I love to try new things. This year I tried the Chocolate Hazelnut Cake. This was so rich and moist. I hope they have it the next time. Last year, I went for the Lemon Cake. Another winner! There is something about a tart, sweet piece of cake that satisfies the palette after a savory meal. And now, with the location of the Princess's and Mickey next door, not to mention the complete re-do of the waiting and shopping area, this place is getting more and more crowded.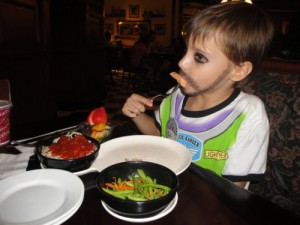 As for advice on how to dine safely with food allergies, here are a few tips when planning and taking you vacation. We made Advanced Dining Reservations (ADRs) 180 days in advance, noting on the reservations that we had food allergies. We also contacted the Special Diets dept at Disney World through email. We filled out all the forms and faxed back with the ADRs listed and the food allergies in detail. Once we arrived at the restaurant, we made sure the Hostess had a note we had food allergies and which one they were. When we were seated, we mentioned the food allergies to our server who went to get the chef. The chef went over what he could have and let Kevin, our son, decided what he wanted to eat. If we had questions on any product, they would bring us out the ingredient label. Also….the chef should be the one delivering the food allergy safe food, so that there is no cross contamination or mix up. The chef also came out periodically to check on us to make sure everything was ok.
Thank you, Tara, for submitting this food allergy dining review of the Tony's Town Square restaurant in the Magic Kingdom. You can read more about her experience on her blog at
The Wolfe Pack
. If you found this helpful, please be sure to give her a thumbs up and/or share this on Facebook.