We have another fantastic guest review from Tara Wolfe who shared her son's dining experience with multiple food allergies. Kevin is allergic to milk, eggs, peanuts, all tree nuts and coconuts.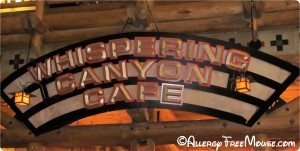 What a beautiful resort! That is what drove us to try this restaurant, because my husband has wanted to stay here since he first saw it. The restaurant is located right in the lobby of the Wilderness Lodge, and just waiting for a table is exciting. But this restaurant is like no other. The first time we dined here, I thought our waitress was slightly rude, only to find out that they just treat you like family!
What a great dinner, although a little loud. And be careful when eating at this restaurant with food allergic kids. There is a lot of people interaction. So, unless you want 10 kids standing around your table with 100 bottles of ketchup and sticky fingers, don't ask for "KETCHUP". Not only is there a lot of yelling, there are a lot of kids running around on wooden horses. The first few years, we were a little concerned about letting our severely food allergic kid race around a restaurant filled with "food bombs", but also touching things that other kids had been touching after eating. But a few trips to the bathroom and a good scrubbing, he had a blast!
Last year, since we were eating there a few days before our 11th anniversary, they waitress presented us with 2 free glasses of champagne. She made us stand up, introduced us to the whole restaurant, lead them all in wishing us a happy anniversary, and then made us kiss. So this is not a restaurant for the shy, or those wanting to have a quiet meal. If you don't mind the noise, I highly recommend it. My husband usually orders the Canyon Skillet. This is so much food — too much actually. I think they put everything from the kitchen on it! He's always so full, he's miserable. This year, he choose the Trout and left happy and full. I always go for the Pot Roast. It is fall-apart-good!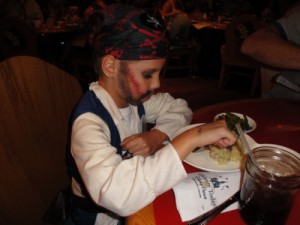 Kevin, our son, had the Grilled Mahi Mahi w/ green beans & french fries, and for dessert a fruit cup. It's his favorite. The previous year, he had the same with mashed potatoes and a popsicle.
After dinner, don't forget to walk around this lovely property. Outside, you will find an amazing pool, lots of streams and a geyser that goes off periodically. You can also catch a boat over to the Magic Kingdom. What a great way to end a wonderful meal!
As for advice on how to dine safely with food allergies, here are a few tips when planning and taking you vacation. We made Advanced Dining Reservations (ADRs) 180 days in advance, noting on the reservations that we had food allergies. We also contacted the Special Diets department at Disney World through email. We filled out all the forms and faxed back with the ADRs listed and the food allergies in detail. Once we arrived at the restaurant, we made sure the Hostess had a note we had food allergies and which one they were. When we were seated, we mentioned the food allergies to our server who went to get the chef. The chef went over what he could have and let Kevin, our son, decided what he wanted to eat. If we had questions on any product, they would bring us out the ingredient label. Also….the chef should be the one delivering the food allergy safe food, so that there is no cross contamination or mix up. The chef also came out periodically to check on us to make sure everything was ok.
Whispering Canyon Cafe – breakfast menu
Whispering Canyon Cafe – breakfast kids menu
Thank you, Tara, for submitting this review of the Whispering Canyon restaurant in Disney's Wilderness Lodge Resort. You can read more about her experience on her blog at
The Wolfe Pack
. If you found this helpful, please be sure to give her a thumbs up and/or share this on Facebook.