We have another guest review from Tara Wolfe who shared her son's dining experience with multiple food allergies. Kevin is allergic to milk, eggs, peanuts, all tree nuts and coconuts.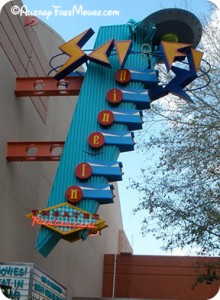 Sci-Fi Dine-In….what a neat place to eat! Tucked in the back area of Hollywood Studios, this is a unique place. At first, I was a little concerned in eating here, since it seems they serve ice cream with everything, and my son is anaphylactic to milk. But once you see the inside, you have to try it. It really feels like you are dining in an old drive in movie theater. The past few years, we were lucky enough to get to eat in a nice car too. And the chefs here really know how to handle food allergies.
When the chef came to our table, he made our waitress clean the table again, with a new clean towel so that there would be no cross contamination. As for food choices with food allergies, there is not much to choose from. It's basically a hamburger. But since we hadn't eaten any the whole trip, a hamburger actually sounded like a real treat! My husband opted for a loaded Picnic hamburger, complete with a hot dog and tons of other stuff on top! He said it was good, just a little too much (especially since we had Fast Passes for Rock-n-Roller coaster right after). I went for a burger too. It wasn't the best burger in the world. But sitting in that car with my son, watching B movies while he ate a safe burger with fries and laughed at Donald running across the screen, it was all worth it.
But the best part…..when the chef came out and offered to make my son his first ever, store bought, milk free milk shake. He loved it, we loved it. Just make sure you have reservations. Even with reservations, we still had to wait almost an hour. Especially if it rains, this place gets packed quick.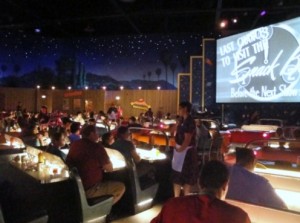 Menus:
As for advice on how to dine safely with food allergies, here are a few tips when planning and taking you vacation. We made Advanced Dining Reservations (ADRs) 180 days in advance, noting on the reservations that we had food allergies. We also contacted the Special Diets dept at Walt Disney World through email. We filled out all the forms and faxed back with the ADRs listed and the food allergies in detail. Once we arrived at the restaurant, we made sure the Hostess had a note we had food allergies and which one they were. When we were seated, we mentioned the food allergies to our server who went to get the chef. The chef went over what he could have and let Kevin, our son, decide what he wanted to eat. If we had questions on any product, they would bring us out the ingredient label. Also….the chef should be the one delivering the food allergy safe food, so that there is no cross contamination or mix up. The chef also came out periodically to check on us to make sure everything was ok.
Thank you, Tara, for submitting this fabulous food allergy dining review of the Sci-Fi Dine-In Theater restaurant in the Disney's Hollywood Studios. You can read more about her experience on her blog at
The Wolfe Pack
. If you found this helpful, please be sure to give her a thumbs up and/or share this on Facebook.