We have another guest review from Tara Wolfe who shared her son's dining experience with multiple food allergies. Kevin is allergic to milk, eggs, peanuts, all tree nuts and coconuts.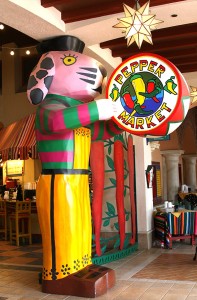 When we go to Disney, we love to stay at the Coronado Springs Resort. I've heard that a lot of people don't like it here because it is too big, but that is why we like it. Walking around this beautiful resort, you feel like you are the only one here. And finding your way into the Pepper Market, even better.
Pepper Market is actually a counter service, but you eat like at a table service. Other comments I have heard about this place is that it is too confusing. I don't think so, and we dine with a severely food allergic child, we KNOW confusing! When you first walk up, a hostess seats you at a table and gives you some food cards. That's when our waiter showed up to get our drink orders. This is when we told him about our son's food allergies and he promptly went back to get the chef. Yes, I said chef, not manager, but chef.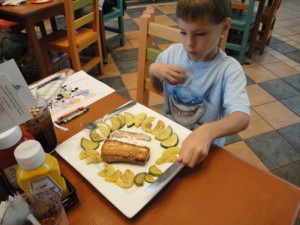 Thankfully, the last several years dining here, Chef Cliff has remained. He is a wonderful chef, and very knowledgeable about food allergies. And the presentation of our son's meal was better than most of the table service restaurants. Kevin selected the Grilled Mahi Mahi with grilled yellow squash and zucchini, and for dessert a cup of milk free ice cream, the same meal he had the previous year.
My husband and I took turns getting our food. This is how the food card works: you take your food card up to one of the many stations where you want something (there are multiple stations serving Italian pastas, pizzas, Mexican dishes, even grilled steak!). You pick out what you want, the attendant stamps what you ordered and you wait on them to freshly prepare your food right in front of you. You then take your food back to your table, and that's it. The only difference in this counter service with others, besides the amount of food and choices you have, is that you have a waiter, so you must leave a tip. So be sure to have some cash on you, because we were told they couldn't put the tip on our Key to the World card.  Once you are finished with your meal, you take your cards up to the cashier and she will ring you up.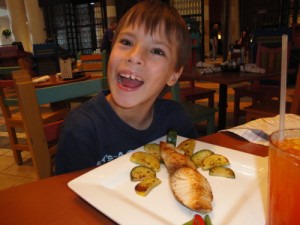 But back to the food. My husband always chooses something in the Mexican cuisine. I wanted pasta. I picked Chicken Fettuccini with Broccoli. It was so much food. I was able to box it up, put it in the fridge back in our room and eat on it the next day! It was enough for 2 people, but it was so good. Of course, I would have rather had my son's meal. Too bad they don't offer this at one of the stations. Chef Cliff told me that it is a real treat to cook for food allergy guests because he can cook "outside the box". He does such a great job at it too! Even if someday we move up to staying in a Deluxe, we will continue to come back to Pepper Market. Hopefully, Chef Cliff will be there too.
This is one of our favorite places to eat, and it's only a counter service. Chef Cliff is wonderful. Both visits, he went out of his way to make our son the best meal I have ever seen. We had so many people walk by our table, wondering where they could get that meal. This will be a go to place from now on.
Thank you, Tara, for submitting this food allergy dining review of the Pepper Market restaurant in the Coronado Springs Resort. You can read more about her experience on her blog at
The Wolfe Pack
. If you found this helpful, please be sure to give her a thumbs up and/or share this on Facebook.