We have another guest review from Tara Wolfe who shared her son's dining experience with multiple food allergies. Kevin is allergic to milk, eggs, peanuts, all tree nuts and coconuts.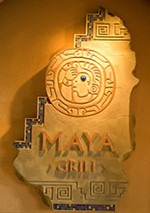 Coronado Springs Resort is a beautiful resort. Walking around this vast area, you feel like you are in Mexico. You have the Cabana area, where it feels like the Mexican Riviera. Then there is the Casitas, with all the fountains, so relaxing. Finally there are the Ranchos, a desert area with lots of cacti. By this time, you are really in the mood for some Mexican cuisine.
We had never eaten at Maya Grill, but when my son saw they had tacos on the menu, he wanted to try it. We ate there the night we were leaving (I try to extend our last day as long as I can). The restaurant is so nice inside, including a musician playing the guitar as we ate. We sat next to a beautiful fountain, it was truly relaxing.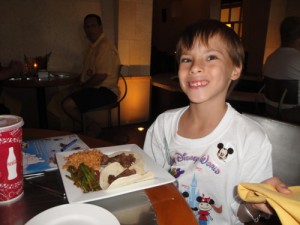 The chef came out to our table and what he could prepare our son that was safe. Kevin choose steak tacos, with no cheese or sour cream, of course. I was concerned about the Spanish rice, but my son tried it and said it was great. This was a great restaurant, we were just so tired and ready to hit the road. We probably didn't give it as much time as we should have, but we will try it again. Just not on the last day of our trip. Plus, if you are staying in Coronado, it's nice to have such a great restaurant with different flavors on site.
As for advice on how to dine safely with food allergies, here are a few tips when planning and taking you vacation. We made Advanced Dining Reservations (ADRs) 180 days in advance, noting on the reservations that we had food allergies. We also contacted the Special Diets department at Disney World through email. We filled out all the forms and faxed back with the ADRs listed and the food allergies in detail. Once we arrived at the restaurant, we made sure the Hostess had a note we had food allergies and which ones they were. When we were seated, we mentioned the food allergies to our server who went to get the chef. The chef went over what he could have and let Kevin, our son, decided what he wanted to eat. If we had questions on any product, they would bring us out the ingredient label. Also….the chef should be the one delivering the food allergy safe food, so that there is no cross contamination or mix up. The chef also came out periodically to check on us to make sure everything was ok.
Thank you, Tara, for submitting this fantastic food allergy dining review of the Maya Grill restaurant in Disney's Coronado Springs Resort. You can read more about her experience on her blog at
The Wolfe Pack
. If you found this helpful, please be sure to give her a thumbs up and/or share this on Facebook.