We are thrilled to have Danielle provide this guest review of her dining experience.
When I went to Walt Disney World in the spring of 2010, I dined at Nine Dragons Restaurant, located in Epcot. I have a severe allergy to milk. When we got to Nine Dragons, I looked over the menu and decided on a few things I thought would be safe. I then talked to the manager about my allergy and he confirmed my dish would be dairy-free, and showed me the ingredients present in the dish. I ordered the Honey Sesame Chicken with a side of white rice.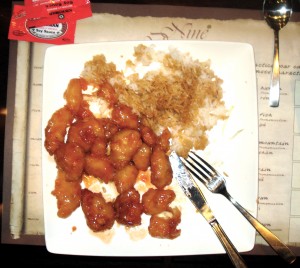 I usually feel pretty safe eating at a Chinese Food restaurant, because they do not use a lot of dairy and cheese products. However, I am not sure if I would dine at a Chinese restaurant if I had a peanut/tree nut, fish, soy, or wheat allergy because I believe they use some of those products frequently in the dishes.
I would suggest going for lunch instead of dinner because I believe it would be less crowded and more affordable.  I would dine here again if I go in the near future because I had a great experience, and the food tasted great.
Danielle Bryant
Thanks, Danielle, for submitting this review of Nine Dragons. If you found this useful, please be sure to give her a thumbs up or share this on Facebook.