We have a fantastic guest review from Tara Wolfe who shared her son's dining experience with multiple food allergies. Kevin is allergic to milk, eggs, peanuts, all tree nuts and coconuts.
Le Cellier is that place were everyone talks about their great steaks and creamy cheese soup.  We love eating here because this is one of the few places where our son can actually order a steak.  So many table service restaurants have hamburgers or chicken fingers on the kids menu.  But not this place.  Not only is the restaurant tucked into a nice corner area with beautiful gardens, the feeling that you are actually in Canada is so relaxing.  You walk down such a nice path, you feel like you are leaving the crowds of Epcot behind you.  There is also a KidCot Station to the right of the restaurant.  This was a nice way to kill the time as we waited on our reservation.  Even though we always make a reservation here, we always have to wait too.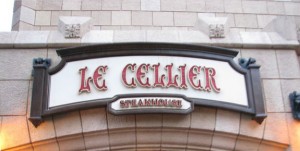 As for the food, I can't say enough about the steak.  I always go for Filet.  So tender, you can cut it with a fork.  As for my son's meal, it was wonderful.  Now, we have had a few incidents in the past visits, but nothing that wouldn't keep us from coming back.  The first problem was when they were bringing my son out an allergy free roll.  The waitress delivered it to the table, which usually doesn't happen due to cross contamination issues, but we shrugged our shoulders.  As she was handing me the plate, I noticed there was butter on the plate also.  I asked if it was milk free, and she froze.  She quickly took the plate back to the kitchen and returned with the butter gone.  Now, not knowing if she put the roll on another clean plate, or just simply removed the butter off this one, we were not going to take the chance. So our son did not eat that roll.  Better safe than sorry, right?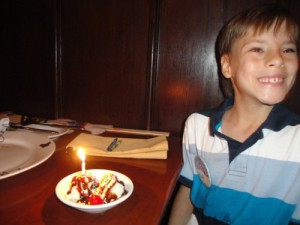 The second incident involved dessert.  This was on our last trip.  When the waitress noted that our son's birthday was just a few days away, she presented him a milk free ice cream sundae, sitting on a plate decorated in chocolate that read "Happy Birthday" and some hearts.  Now, while this is great and festive, I couldn't help but wonder if this was milk free chocolate.  I chipped a piece of chocolate off and it was MILK chocolate.  Thankfully, the safe food was sitting in a bowl and wasn't touching the milk.  We also tasted the ice cream to make sure it was indeed milk free, and it was.   I was just a little shocked, as Canada seems to be a leader in food allergy awareness.  But again, these 2 problems didn't occur with the chef, but with the waitressing staff.
So, would we eat here again?  Most definitely!  Just always keep your eyes open and go with your gut.  And now that it is a 2 credit Table Service restaurant, we eat here at lunch and save a credit.  Same food, just smaller portions….which is fine with my waist line.
As for advice on how to dine safely with food allergies, here are a few tips when planning and taking you vacation.  We made ADR's 180 days in advance, noting on the reservations that we had food allergies.  We also contacted the Special Diets dept at WDW through email.  We filled out all the forms and faxed back with the ADR's listed and the food allergies in detail.  Once we arrived at the restaurant, we made sure the Hostess had a note that we had food allergies and which ones they were.  When we were seated, we mentioned the food allergies to our server who went to get the chef.  The chef went over what he could have and let Kevin, our son, decided what he wanted to eat.  If we had questions on any product, they would bring us the ingredient label.  Also….the chef should be the one delivering the food allergy safe food, so that there is no cross contamination or mix up.  The chef also came out periodically to check on us to make sure everything was ok.
In 2010, Kevin had the grilled steak with a safe roll, french fries and fruit salad, and for dessert a cup of milk free ice cream, chocolate syrup and sprinkles. Thanks to Chef Sergio for taking great care in preparing his food. In 2011, he also had the grilled steak, this time with french fries and apple slices with brown sugar, and for dessert a cup of milk free ice cream, chocolate syrup and sprinkles.
Thanks, Tara, for submitting this review of Le Cellier. You can read more about her experience on her blog at
The Wolfe Pack
. If you found this useful, please be sure to give her a thumbs up and/or share this on Facebook.