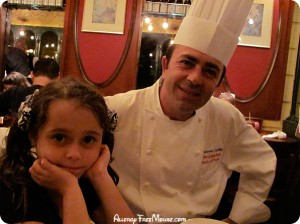 Chefs de France is a wonderful French restaurant located in Epcot. It can be very difficult to get reservations, and there may be a slight wait, but it's worth the effort. As a non-Disney owned restaurant, or "operating partner", we were a bit skeptical about dining with a food allergy. However, the Chef and staff were fantastic.
Chef Laurent came to our table and asked about our daughter's allergy, and gave us our options. We were shock that there were so many for her that were dairy free.
First of all, she enjoyed her first French baguette in a restaurant. He reassured us that it was made on site without dairy. She would have been thrilled with that alone! But, she ordered a romaine hearts salad with a dressing, that I made at the table, of olive oil, pepper, salt, garlic , mustard and vinegar. They were very accommodating and brought ingredients we requested to make our own dressing.
She had the demi poulet fermier roti, pommes rissolées et tomate grillée, or a roasted chicken, herb-roasted potatoes, and a grilled tomato. This was the best chicken we've eaten in Epcot, hands down! There is no photo, because she dug in immediately.
Then, just when we thought it couldn't get any better, the Chef brought out raspberry and kiwi sorbet, again made on site  in their kitchen. He assured us, again, that it was safe and completely free of dairy, and gave her a scope of each. She was thrilled and I don't know how to express the joy it gave us to see her able to enjoy a meal in a French restaurant for the first time. This is why we love Disney!
My husband and I both had the filet au Poivre, a delicious peppered steak in a peppercorn cream sauce. They were fabulously prepared and delicious, though not dairy free. Of course, we took precautions to keep everything separate on the table. We had to order our own French baguette, anyway, since our daughter had already claimed the first one as her own! She loved that so much.