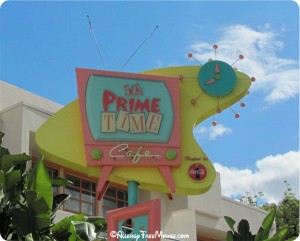 One of my favorite themed restaurants in the "World". We were brought to our table and taken care of by a "motherly" waitress. She reminded us to keep our elbows off the table, eat our vegetables and other great bits of advice. She was hilarious!
The kitschy decor is fabulous. It's as if you entered someone's home in the 50's, for real! Each table has a TV with old clips, in black and white, of course. Make sure to ask the waitress to take your picture, or better yet, ask someone else to get your family picture with the waitress at your table.
The chef comes out to discuss your food allergy and options, and our daughter chose the chicken strips, macaroni with marinara sauce, steamed veggies and a fruit salad. We asked for more marinara, which she used to "dip" her chicken. We also ordered some fries, just in case she didn't like the marinara, but she loved it! Our waitress brought her an illuminated Tinker Bell attached to her drink straw. This nice gesture works every time.
My husband ordered Grandma's Chicken Pot Pie and I was in heaven. I don't think he said a word until he finished it. I had Cousin Amy's Iceberg Lettuce Wedge. The bleu cheese, bacon and chives somehow tastes better on iceberg.
Oh, I almost forgot – the 50's Prime Time Cafe also has wonderful cocktails, if you like that sort of thing. We ordered a Magical Star Cocktail and Dad's Electric Lemonade, with Dad's "Experimental Electric Ice Cubes." Yum, just what we needed. We also stopped back a few hours later for a much-needed AC break. We sat on the sofa, watched TV and had another cocktail, while our daughter played with another little girl. This was one of the best breaks you can get at the Parks!
50s Prime Time Cafe dessert menu