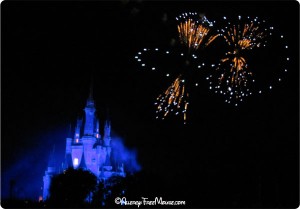 Located in Tomorrowland, this restaurant hosts one of the hardest special dining events in Disney World. You may make reservations in only 2 months in advance. We were thrilled to get the reservation – I felt like we had won a mini lottery.
When you check in, you're given a special wristband so that you can come and go, to use the restrooms without worry. You have an assigned table where, after being seated, the host will explain the dessert buffet. We were a little skeptical as to what our daughter would be able to eat, if anything. We knew she definitely would not be eating from the buffet! In fact, we even stopped by Main Street Bakery and bought some Divvies and French Meadow treats, just in case. However, once we arrived, the maitre 'd explained that the chef had prepared a special dairy-free plate of desserts and that he would bring it to her, which he did wearing gloves for added protection. We also asked for clean utensils (not from the buffet) and napkins for her. He also brought here a glass of water from the back, instead of the buffet area.
Well, we were pleasantly shocked!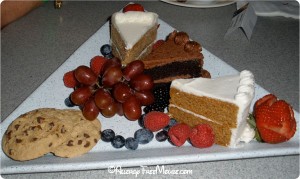 Her dessert plate was incredible! She was presented with a beautiful assortment of generous cake slices, including hummingbird cake, chocolate cake with chocolate frosting and vanilla cake with vanilla frosting. Surrounding the cake were lovely roses cut from strawberries. An assortment of fresh berries finished off this amazing presentation. She felt so special and I felt so safe. We were all amazed beyond belief! I can't say enough about those folks at Disney!
My husband and I treated ourselves to the buffet without any guilt! We feasted on mini dessert shots of key lime pie, creme brulee, brownies, ice cream, cookies, chocolate mousse, butterscotch pudding, blondie truffle and lots more. As we were finishing, the fireworks started and Tinker Bell herself flew right over our eyes, directly over us on the terrace! We didn't notice, until after the fireworks, there was a PhotoPass photographer setup to take pictures in front of the Castle and fireworks. Next time, we'll take advantage of this incredible opportunity. This is a "don't miss" event!