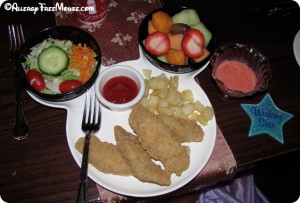 Dine in a fairytale castle atmosphere complete with a photo of you (or your child) with Cinderella. We've seen large parties (10-12) pose with Cinderella for a photo. The photo is included with your meal. During your meal, other Disney Princesses will visit your table for photos and autographs. Boys enjoy the fun with swords and your little princess will get a wand, of course! Everyone receives a "wishing star" to hold while the entire castle dining room wishes together.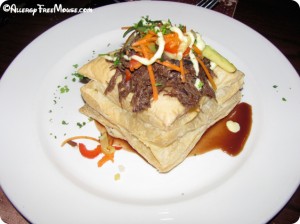 As always, remind the Cast Members of your food allergy as you check in. Remind you waiter and ask to see the chef — they usually offer when you mention a food allergy. They are extremely accommodating here and want you to truly enjoy yourself. I always view the menu online to find meal options to suggest to the chef, for our dairy allergy. However, I'm always pleasantly surprised to find that the chef has more options — often better than I had imagined.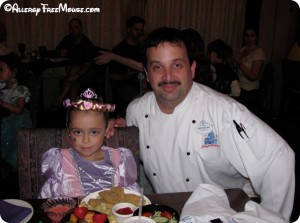 Be sure to make your advanced dining reservations as soon as possible, 180 days in advance, if possible. They really fill up quickly. I've phoned in at 7:00 AM to find a 30 minute hold time to make reservations 180 days ahead of time. Try to book online, if you can. Also, if you plan to visit the Bibbidi Bobbidi Boutique, make that reservation 2 hours before your reservation at Cinderella's Royal Table. They tend to run very slow and you can always overlap your dining reservation. If this happens, inform the hostess at Cinderella's Royal Table how long your Bibbidi Bobbidy Boutique appointment is running behind and they will usually make the necessary changes in your dining reservation.
Along with the magic of Cinderella, her castle and the other Disney Princesses, we pre-order an allergy free cake to be delivered as dessert. This never fails to excite our daughter, since it's rare that she has dessert if we're dining out. After our meal, we ride a few more rides, then return to our hotel to store the cake in the refrigerator to be enjoyed all week!
Our last visit was just as magical as our previous visits. Our daughter had the allergy free chicken tenders, a mixed garden salad with raspberry dressing, mixed fruit plate (strawberries, melon and cantaloupe), roasted home fried potatoes, and the custom-delivered chocolate cake.
We both had Major Domo's pie — shredded beef simmered in a rich cabernet sauce, served with mashed potatoes, veggies all on top a pillowed puff pastry. We also had an opportunity to order dessert, because our daughter was able to have dessert (the chocolate cake that we ordered)! We ordered the chocolate cream cheese buckle. It was creamy, subtly tart and all around delicious!. Chef Nicholas and the other Cast Members took excellent care of our daughter. We love you Chef Nicholas!
Click to see a large version of the menu
Read about our first visit to Cinderella's Royal Table