We are very fortunate to have a guest post by Kimberly, The Food Allergy Mom, about her recent trip to Disney. We are thrilled to share another family's experience with food allergies at Disney. Thank you Kimberly, for this new perspective!
This summer my family and I went to Walt Disney World in Orlando, Florida for the very first time. Now I know one family's summer vacation isn't all that remarkable in and of itself. But, for this food allergy family, enjoying a summer vacation without having to pack any food is no small thing. It's HUGE!
My son has allergies to peanuts, tree nuts, sesame, and chickpea/garbanzo and I have dermatitis herpetiformis (a form of celiac) and am gluten-free. Dinner is at our house is a challenge, much less an out of state vacation. So, I won't lie…I was a little nervous when my husband suggested we go to Walt Disney World (WDW).
Although I'm an organizer and planner by nature, my hubby steals that title from me when it comes to vacation planning. He could moonlight as a travel agent and do pretty well for himself. For this trip he tapped into all the usual resources: travel guides, http://disneyworld.disney.go.com, http://allears.net, and dozens of other online resources. Believe it or not, there is even a smart phone app complete with current ride wait times to help you better navigate the park.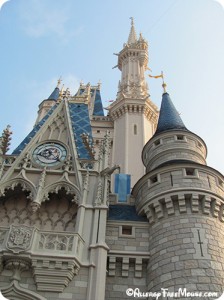 Food allergy information for WDW wasn't as easy to come by with the bulk of our information coming from WDW or online forums (what I would have given to have found Allergy Free Mouse before our trip). When making our vacation reservations (we stayed at The Wilderness Lodge on park grounds), my husband let them know about our family's multiple food allergies. The WDW representative was extremely helpful in connecting us with dining services and was able to email us some basic information about eating inside the park.
Looking through all the information we collected, I was thrilled at the detailed gluten-free menu options available throughout the park and in Downtown Disney. There is no question I would be eating well! But I was slightly dismayed at the lack of other allergy specific menu options (think peanut, nut, dairy, and egg free) we were provided with before making the trip.
The only real nod to the other top seven allergens is a catch-all statement that promises WDW dining establishments employ highly trained culinary staff that will be able to provide families with safe meal options. Now, for most food allergy moms, such a general statement strikes fear in our hearts. What if we arrive depending on someone else to provide our family with a safe meal and there isn't one to be had? What if the restaurant isn't really all that well versed in food allergies? What if…what if…what if?
We can't really help our cynicism, after all it's what we rely on to protect our family. With that said, we can't become paralyzed by fear or rule out family activities just because they will take a great deal of research and planning.
Try this one on for size. What IF your family has a safe vacation? What IF your family has the best time ever? What IF this is the family vacation of a lifetime?
The positive what if's won me over and we had a fabulous, reaction-free, safe, fun, magical family vacation! My nerves and skepticism couldn't have been more misplaced. When they say Walt Disney World is the happiest place on earth, they aren't kidding!
We spent two days at the Magic Kingdom eating lunch and dinner on park grounds, a day at Hollywood Studios eating lunch on site, and a day at Epcot where we ate lunch and dinner. Every single meal we ate accommodated both my son's allergies and my own. There was something for everyone…and not just apple slices and a soda. We are talking gluten-free chicken fingers, peanut/nut/gluten-free brownies, gluten-free pizza, gluten-free hot dogs, peanut/nut-free chicken nuggets, peanut/nut/gluten-free cupcakes, and much much more. I'm getting hungry just thinking about all of it again!
True to Disney's word, there were highly trained culinary staff at every dining establishment (snack, counter, and table service). They were very well versed in food allergies, knew exactly what accommodations needed to be made, and went out of their way to make our meals special. I hope you'll stop by The Food Allergy Mom blog (www.thefoodallergymom.wordpress.com) to read more specifics on our amazing dining adventures.
If you're a family with food allergies and you want to take a magical vacation, Walt Disney World is a great place to start! I'm so grateful to Allergy Free Mouse for creating such a valuable online resource for food allergy families!
So what are you waiting for? Pack your bags, sprinkle the family with some pixie dust, and get ready for the time of your life!
Kimberly, The Food Allergy Mom
Kimbery, The Allergy Free Mom, has a wonderful blog dedicated to living a safe and happy allergy-free life. Please take the time to visit her at
www.thefoodallergymom.wordpress.com
.