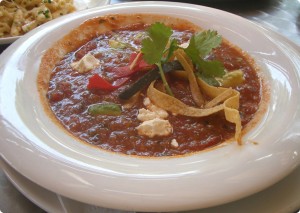 On this trip, we had dinner at Downtown Disney's Wolfgang Puck Cafe on the first night we arrived. We had great experiences here on the last two trips, so we felt it was a safe place to start our Disney dining. They, of course, aren't owned by Disney, but they have a great food allergy policy. They are included in the Disney Dining Plan.
We checked in and the chef, Christopher, came to our table and discussed the menu options. We felt completely comfortable with his understanding of our daughter's dairy allergy and we were shocked by the outstanding effort he put into preparing her meal. He told us that it would take some extra time to prepare her meal, because he needed to wash all of the pots and pans first! We couldn't believe our ears — wash the pots and pans! Yes, he really got it!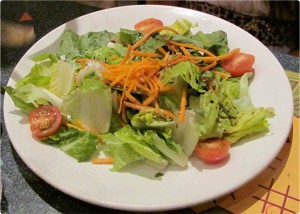 When her meal arrived, everyone wanted her dinner. He pan-grilled her organic chicken and HAND CUT her french fries. She also had a beautiful salad and the meal resulted in the biggest smile. This is what the Disney allergy dining experience is all about!
When we arrived home, we asked our daughter "What was your favorite thing that we did at Disney?" It wasn't Cinderella, not the Princesses at Akershus, not the gang at Chef Mickey's, not the Aloha Show, not the theme parks, not even meeting her beloved Rapunzel. Her answer was, and you won't believe this from a 6-year-old, as she smiled and said, "the best and juicy chicken ever at Wolfgang Pucks!" Wolfgang — we need your picture for our scrapbook! To be a 6-year-old's favorite at Disney is awesome, Wolfgang!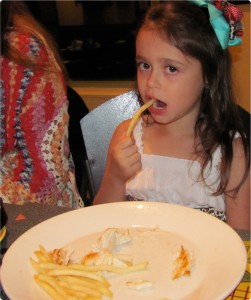 We had delicious meals, as well. I LOVED the tortilla soup. It's a perfect blend of spices and heat. It is garnished with crispy tortilla strips and tangy goat cheese. I also had the ravioli and was very satisfied. Wolfgang Puck's makes one of the best chicken Caesar salads ever! My husband had the Chicken Alfredo and ate every bite.
Afterward, our daughter had her 1st fresh donut for dessert from BabyCakes NYC.
We've read about a serious allergic reaction, and even been contacted by a person who had one, at Wolfgang Puck's Cafe in 2008. Maybe it was this incident that brought about the change at Wolfgang Puck Cafe. In the past 2 years, during multiple visits, we've had nothing but great success and feel comfortable with our daughter eating there.
The kid's menu is included below. Here is a link to the dinner menu.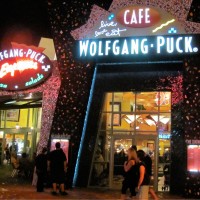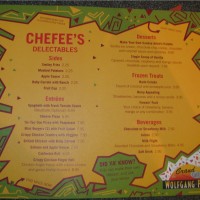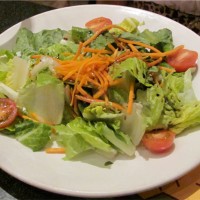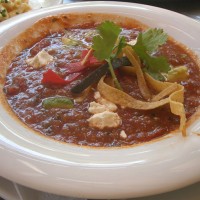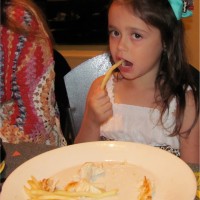 If you have a food allergy and you've dined at Wolfgang Puck Cafe, Wolfgang Puck Express or anywhere else within Downtown Disney, please share your experience with us so that it can help other food allergy diners make informed decisions.