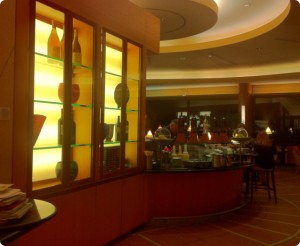 Located atop the Contemporary Resort, the California Grill has been the best Disney dining experience we've had. From both a culinary and food allergy standpoint, this restaurant  is the best of the best.
It started with the usual Disney experience for food allergy diners, but  more upscale. Like  most of the Disney restaurants, they had our allergy noted in the reservation system. However, when we saw our "seating receipt" we noticed that, along with the usual note at the bottom of the receipt, it was also stamped at the top with "Allergy" in red.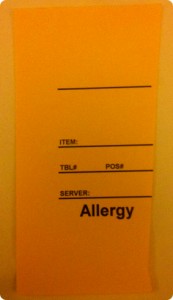 Our waiter, Daniel, further explained their process. Instead of the hostess placing the seating receipt on the table for the server, they must hand the server the receipt if a food allergy is specified. Additionally, the wait staff uses bright yellow allergy cards to accompany the order, again hand delivered, to ensure a high level of communication about the food allergy.
Our daughter had the Ener-G tapioca roll, with olive oil and a simple hearts of romaine salad with balsamic dressing. The chef would have prepared a wide range of delicious items, but she didn't want anything else. Plus it was 9:30 PM and we were waiting to watch the fireworks at the Magic Kingdom while we dined.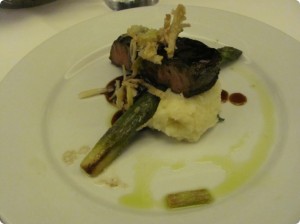 We chose to split some of the signature items on the menu. We had a Hearts of Romaine salad with aged parmesan and homemade croutons. Then we had the Sonoma Goat Cheese Ravioli. It was prepared with fresh pasta, wonderfully mild goat cheese, sun-dried tomatoes, and pesto to make a deliciously light first course. Next, we had the Oak-fired Filet of Beef with Mascarpone Potatoes and Teriyaki Barbecue Sauce. This was the best steak we've had in a long time. Splitting these items was not only wise for the cost, but also for the portions. It was plenty of food, all split in the kitchen for us. As Daniel suggested, splitting it in the kitchen kept us from fighting over the last bite!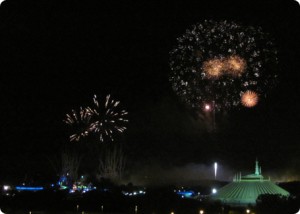 The restaurant was beautiful and the food was delicious. And the service was fantastic. We cannot say enough about our server , Daniel.
Daniel was the best and  most knowledgable waiter we've ever met. He really understood the food allergy complexities, the menu, and the options that the kitchen could handle. He also knew Disney World very well, and was excellent at taking care of his customers. Walt himself would be proud of Daniel and the California Grill.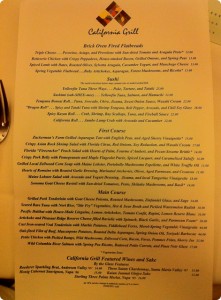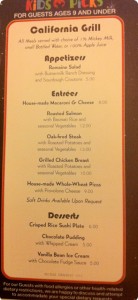 If you've eaten at the California Grill with a food allergy, please share your experience.
All photos from the California Grill.